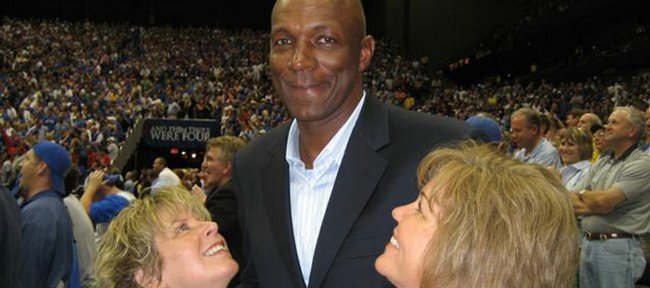 Any witness to the brief eternity that was a Jason Richards three-point shot suspended in air as Bill Self fell to his knees understands what peaks and valleys March Madness engenders.
Those who watched Kansas build a 28-point lead against North Carolina and then watched it dwindle to four, only to see it inflate back up to 18 points, knows the exhaustion of riding the emotional roller coaster that is the NCAA Tournament.
Dejection: Down nine points with two minutes left against Memphis. Euphoria: Winning by seven points after Mario Chalmers sent it into overtime by hitting a tightly guarded three-pointer.
Perhaps nobody better knows the gamut of tourney feelings than Nancy Flavin and Susan McLaughlin, two Lawrence women who made the trip to San Antonio for the Final Four.
"We don't go on trips," McLaughlin corrected. "We go on adventures."
Difficult point to argue.
Flavin and McLaughlin have attended the Final Four four times (1993, 2002, 2003, 2008). The low point of the San Antonio trip, er, adventure, came when the handed their tickets for the North Carolina game to the scanners.
"I was in one line, Susan in another," said Flavin, a 1976 KU graduate. "They scanned my ticket. It was rejected. A few feet away, Susan was going through the same thing."
They were out $500 apiece. The man from whom they had purchased the tickets - he identified himself as "Shawn" and was dressed head-to-toe in Dallas Cowboys garb, posing as a local - was a fraud.
McLaughlin, a 1978 KU grad, said the cell phone number "Shawn" gave them still works and that she has left several messages on it.
A phone message left by the Journal-World to the New York number for "Shawn" to get his version of events was not returned. One call was answered, but the man hung up when he was called "Shawn." The answering machine has a recorded voice that says, "Leave a message for the dog pound, and Snoop Dogg will pass it on for you immediately."
No matter. The tale now told by Flavin and McLaughlin is neither one of bitterness nor a quest for vengeance, rather one of gratitude and amazement at the kindness of fellow basketball fans with different rooting interests.
As word of their plight spread, acts of kindness began flowing their way. Free meals. A $50 gift from a Memphis fan who insisted they buy Final Four souvenirs with it. A $200 gift from a KU fan, whose wife urged him to give them more than that.
Margaret, the North Carolina fan, insisted they take two tickets for the national title game and wouldn't take them back when another man gave them two tickets in the second row behind the basket Memphis shot at it in the second half. She said to "pass it forward." The women found a KU family of four that had two tickets and was seeking two more, and gave them the tickets.
Flavin and McLaughlin sat next to Olympic gold medalist, NBA champion, and Hall of Famer Clyde Drexler during the Memphis game.
Flavin, in the same Bible study group in Lawrence as Almarie Chalmers, Mario's mother, said she ran into her inside the Alamodome in the aftermath of the remarkable comeback victory.
"Talk about an elated person with stars in her eyes," Flavin said.
The description just as easily could have fit Flavin and McLaughlin, as much for what transpired outside the Alamodome as inside it.
"There are amazing people out there," McLaughlin said. "This has really changed my opinion of the human race, just the kindness of people."