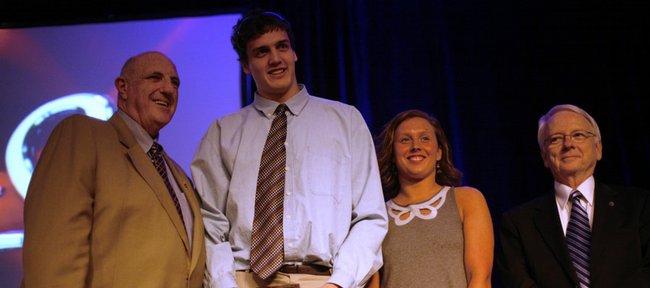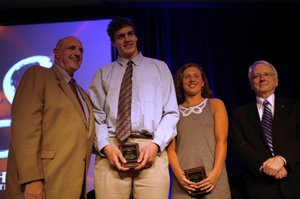 Kansas City, Mo. — Sasha Kaun already has plenty of hardware - namely, a national-championship trophy as a senior forward on the Kansas University men's basketball team.
That title got plenty of love Wednesday at the Jayhawk Senior & Scholar Athlete Banquet at the Kansas City Marriott Downtown. But for Kaun, the computer engineering degree he's earning later this month was recognized, too.
Kaun, along with swimming and diving's Terri Schramka, was named senior scholar athlete of the year.
"It's pretty cool," Kaun said of the award. "It's a real honor to be chosen. It shows the hard work has paid off. I'm pretty excited about it."
Basketball's accomplishments highlighted the night. Besides Kaun, senior Russell Robinson was one of five Jayhawks chosen as senior athlete of the year, joining football's James McClinton, track and field's Egor Agafonov and Kate Sultanova and tennis' Liza Avdeeva.
In addition, Mario Chalmers was recognized for being the Final Four's most outstanding player, and the NCAA trophy and Orange Bowl trophy were displayed at the end of the night after a humorous skit.
It was a special year for KU's most visible sports. But associate athletic director Paul Buskirk was beaming Wednesday for many other reasons.
"In addition to the Orange Bowl and national championship," Buskirk said, "these students broke nine GPA records, including setting the all-time GPA record for the entire department. For me, to watch the Academic All-Americans sitting up front, it gives me goosebumps all by itself. It was absolutely a joy."
There were 11 Academic All-Americans total, an impressive six from swimming and diving.
More like this story on KUsports.com