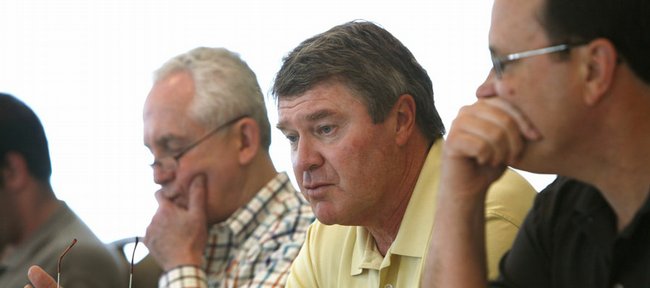 Hollywood, Fla. — There will be no playoff for the BCS anytime soon. Bowl Championship Series officials rejected a plan Wednesday to turn the controversial system for deciding a national champ into a four-team playoff, starting in the 2010 season.
"After a very thorough very good discussion among the group, we have decided that because we feel at this time the BCS is in an unprecedented state of health, we feel it's never been healthier during its first decade," Atlantic Coast Conference commissioner John Swofford said. "We have made a decision to move forward in the next cycle with the current format."
Southeastern Conference commissioner Mike Slive presented a plan Wednesday to the other league commissioners for a plus-one format, matching the No. 1 team in the nation against No. 4 and 2 vs. 3 in the marquee bowl games. The winners would meet about a week later in the BCS national championship game.
"I'm not unhappy," Slive said. "There's no such thing as standing pat. I think we've done a service. I can't say I'm surprised."
In the current BCS format, the top two teams in the BCS standings - which use polls and computer ratings to grade teams - after the regular season are matched in the BCS national title game.
The announcement to drop the plus-one talk for the near future was no surprise. Coming into these meetings it seemed to be at best a long shot to gain enough support for it to remain an option for the next BCS TV contract cycle, which begins with the 2011 bowls.
The Big Ten and Pac-10 have been dead set against the plus-one. Big Ten commissioner Jim Delany and Pac-10 commissioner Tom Hansen have said repeatedly that they're concerned the four-team playoff the plus-one creates would inevitably grow. Also, they believe their league's access to the Rose Bowl, already compromised by simply being involved with the BCS, could be further hindered by a plus-one.
More like this story on KUsports.com