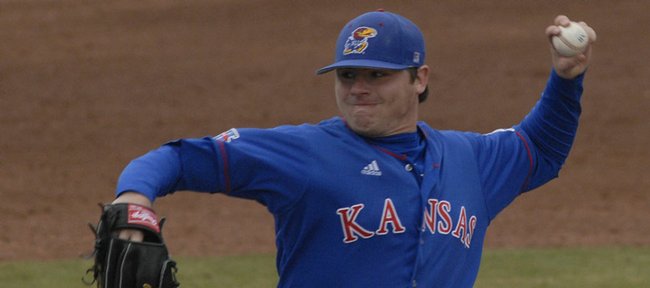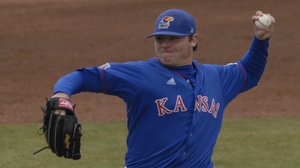 The one thing Ritch Price hasn't had to worry about all season has been the performance of his bullpen.
So it baffled the Kansas University baseball coach when the bullpen turned out to be the Achilles heel in KU's 9-6 defeat in 10 innings Saturday against Texas A&M.;
"Our bullpen has been very, very good, and that's the first time our bullpen's been beaten up late in the game," Price said following the loss at Hoglund Ballpark. "Obviously, a lead-off walk in the eighth set the table for the inning, and it was crucial."
Holding a 6-3 lead in the eighth inning, reliever Brett Bollman gave up a three-run home run to tie the game and eventually send it to extra innings.
In the 10th inning, A&M; put up three runs on Kansas closer Paul Smyth to put the pressure on the Jayhawks' batters.
After roughing up Aggies freshman starter Barret Loux for five hits and six runs - the most he has given up in a game this season - over 52â3 innings, the Texas A&M; bullpen held the Jayhawks to four hits in the final 41â3 innings.
Kansas starting pitcher Nick Czyz held Texas A&M; to just one run in the opening inning, then got a boost from catcher Buck Afenir in the bottom half of the inning.
Czyz's batterymate hit a two-run home run to claim Kansas' first lead in the three-game series. Unfortunately for KU, Afenir went hitless the rest of the game.
The Jayhawks scored all six of their runs with two outs, but still stranded nine runners at pivotal points in the game and hit into two double plays - including one in the ninth with two runners on.
"We still have some guys that struggle with the off-speed pitch and don't do a very good job taking the ball the other way," Price said.
KU is scheduled to finish its series against A&M; at 1 p.m. today at Hoglund Ballpark.
More like this story on KUsports.com