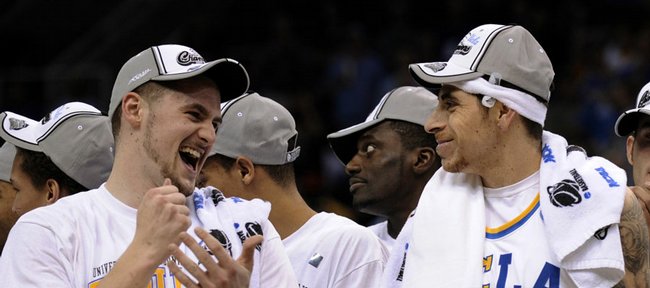 Feature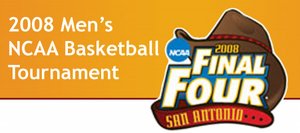 Get your March Madness fix at KUSports.com.
Phoenix — After reaching the Final Four for the third straight time, UCLA coach Ben Howland called these Bruins "by far the best" of the three.
The other two didn't have freshman Kevin Love, who had 19 points and 10 rebounds as the top-seeded Bruins blitzed Xavier, 76-57, Saturday to earn their record 18th overall trip to the Final Four.
Love was picked as the most outstanding player of the West Regional.
"Obviously, it's unbelievable," Howland said after taking the last few snips of the net. "That's really a credit to how good the players are and how well we performed under pressure the last three years."
It's the Bruins' longest string of Final Four appearances since they closed the John Wooden era with nine straight trips and added a 10th consecutive trip in 1976 under his successor, Gene Bartow.
At times Saturday, Howland's Bruins looked every bit as dominant as Wooden's finest squads, annihilating a proud Xavier team that had set a school record for victories.
The Bruins (35-3) lost in the Final Four the last two years. But they go to San Antonio with Love, who has given them a formidable inside presence and has raised his game in this tournament.
UCLA plays the Memphis-Texas winner in the national semifinal in San Antonio on April 5.
"We're getting spoiled with Kevin," Howland said.
Love made seven of 11 shots from the floor, including two of four from beyond the arc. Half of his rebounds came at the offensive end, and he added four assists for good measure.
"He looks like he's 25 years old when he's playing," Xavier coach Sean Miller said of Love, who is 19.
The Musketeers (30-7) had no answer for Love on a day they shot 36.2 percent from the floor - a credit to UCLA's relentless man-to-man defense.
"We can play better than we did today," Miller said. "I couldn't be more proud and really at ease right now because I really felt we went about as far as we could and lost to a great team. They're unique. I'm really pulling for them. I hope we lost to the national champion."
More like this story on KUsports.com