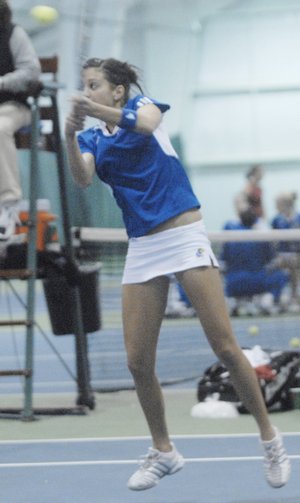 Lauren Hommell tried not to display it outwardly, but she sensed what was going on.
One by one, her Kansas University women's tennis teammates were completing their singles matches against the Oklahoma on Friday afternoon. One by one, they were turning their attention to her match - the only one that remained. When all 12 of KU's players and coaches lined the court, Hommell knew it was up to her. Her match at No. 6 singles would decide the outcome of the Jayhawks' four-hour dual meet.
This was nothing new for Hommell, though. In fact, it was her third such scenario this season. And like the first two occasions, Hommell responded under pressure to serve up a straight-set win and give Kansas a 4-3 victory over the Sooners.
"I think I play a little better when I know I have to win," Hommell said afterward. "I stay more focused instead of wandering off in between points."
KU improved to 6-8 overall and 2-2 in Big 12 play while OU fell to 7-7 and 0-3.
KU began the day by taking two of three doubles matches to earn the Jayhawks' first point. Hommell and sophomore Kunigunda Dorn won at No. 2 doubles, 8-4. Minutes later, Elizaveta Avdeeva and Edina Horvath clinched the point for KU at No. 1 doubles when Horvath's final backhand slid just inside the doubles line. Avdeeva and Horvath improved to a team-best 10-4 in doubles play this season.
Kansas actually dropped three of its first four singles matches, with the only victory coming from Horvath at No. 3. That set up must-wins for Dorn at No. 4 singles and Hommell at No. 6. First came Dorn, who fought back to win in three sets, 6-7 (5), 6-4, 6-1.
"I didn't even see Lauren's score," Dorn said, although she admitted she knew the meet was tight. "I just had to fight and do whatever I could."
Hommell followed with a 6-2, 6-2 thumping of Tara Eckel, drawing hugs and high-fives from her KU teammates.
More like this story on KUsports.com