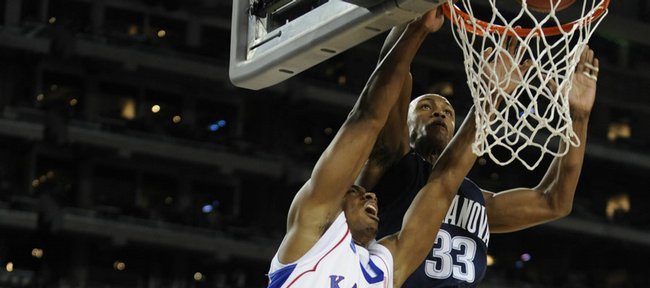 Reader poll
0-10

2%

25 votes

10-20

40%

352 votes

20-30

49%

426 votes

30-40

4%

35 votes

40-plus

2%

22 votes
860 total votes.
Go figure
0Assists by Villanova's five starters combined
13Turnovers by the Wildcats' starting five
17.6Villanova's three-point shooting percentage (3-for-17)
42.1Kansas' three-point shooting percentage (8-for-19)
7-for-14KU's first-half three-point shooting
1-for-5Kansas' second-half three-point shooting
2Points by which KU outscored smaller 'Nova in the paint
57,028Attendance at cavernous Ford Field, a regional record
Detroit — Friday was one of the longest days of Russell Robinson's life.
Also one of the sweetest.
"I was getting a little sleepy on the bus ride over here," Robinson, Kansas University's senior point guard, said of a day that started with wake-up call at 10 a.m. at the Dearborn Hyatt Regency Hotel, nearly 12 hours before tipoff of the Jayhawks' Sweet 16 contest against Villanova at Ford Field.
"Getting over here and standing in front of our fans in the dome fired me up," Robinson added after emerging as KU's unofficial MVP of a 72-57 victory over the Wildcats - a victory that pushes the No. 1-seeded Jayhawks into Sunday's 4:05 p.m. CDT contest against No. 10 seed Davidson.
"It wasn't that bad. It definitely turned out well."
Breakfast at 11 a.m. and shootaround at 2 p.m., followed by lots of lounging back at the hotel, didn't affect Robinson's play early Friday.
He scored 13 points off 4-of-4 shooting (3-of-3 threes) and 2-of-2 free throwing, while Brandon Rush contributed seven points as the Jayhawks raced to a 26-10 lead just 8:32 into the game.
Robinson also made sure 'Nova standout guard Scottie Reynolds (11 points, 4-of-13 shooting) was no factor by hounding him on defense. Reynolds had just six points in 18 minutes the first half as KU blazed to a 41-22 lead.
"I didn't let him get going early," Robinson said. "I tried to take away his offense early."
Of his early shooting, Robinson, who finished with 15 points and five assists, said: "I hit some open shots. My teammates found me, and we built a nice lead."
KU's guards were mighty effective in breaking open the game.
Robinson (13), Rush (11) and Mario Chalmers (8) combined for 32 points the first half.
Even seldom-used guard Jeremy Case, who was playing at the end of the half to protect Chalmers, Rush and tonsillitis-ridden Sherron Collins, who had two fouls apiece, got into the act, hitting a three-pointer to close the first-half scoring.
Case had more points the first half than any of KU's big men. Darrell Arthur, Sasha Kaun and Darnell Jackson had two points apiece. Arthur played just nine minutes with his two fouls.
"Russell carried us the first half," said Collins, who missed the shootaround Friday afternoon as he stayed in bed battling the same symptoms that plagued Rodrick Stewart last week. He had four points and four assists in 21 minutes.
"He did the job on Scottie. Like coach (Bill Self) says, he's the heartbeat of our team. We respect him. He did a great job," Collins added of Robinson.
Noted Brandon Rush: "Russell was great defensively. He cut the head off and stopped Reynolds from getting started."
Self, who leads the Jayhawks into their third Elite Eight in his five years at the school, was most impressed with the senior leader.
"I was more impressed with him defensively than offensively. Russell is playing very well. Not too many guys can make three threes in a row then shoot two airballs," Self cracked. "He's been real focused. The key to the game was his defensive play on Scottie."
The second half was not a thing of beauty, though the Wildcats, who were down by as many as 21, never sliced the gap below 12.
KU was outscored, 35-31, in a half muddied partly because Rush and Chalmers picked up their third fouls early. Self turned to Case, who performed well, and made sure KU's 18-point lead when Rush and Chalmers left the game dipped just a couple of points by the time of their return.
"Jeremy played well. I'm really happy for him. He gave us a lift," Self said. "He waited five years for that one possession. It was a big shot. He gave us some great minutes."
Rush finished with 16 points, Robinson 15 and Chalmers 14 for KU. Reynolds' 11 led the Wildcats. KU improved to 34-3 heading into Sunday's game; Nova finished 22-13.
More like this story on KUsports.com