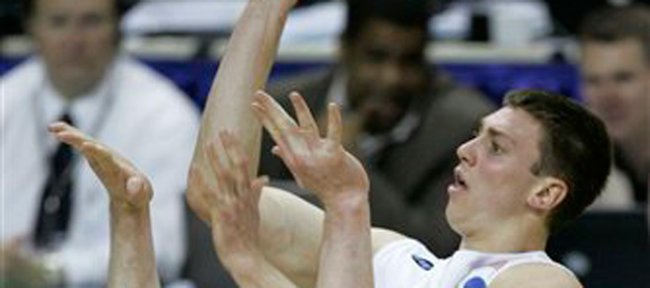 North Carolina-Washington State
Feature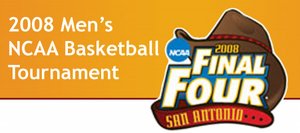 Get your March Madness fix at KUSports.com.
Roy Williams has never stopped pushing his North Carolina team to play better defense, not even as it piled up lopsided wins and crowd-pleasing offensive displays that few teams can match.
The Tar Heels gave their Hall of Fame coach what he's been asking for in the East Regional semifinal against Washington State - and it has them a game away from the Final Four again.
Tyler Hansbrough scored 16 of his 18 points in the second half and the top-seeded Tar Heels held Washington State to 32-percent shooting in a 68-47 victory Thursday night, sending North Carolina back to the NCAA tournament's round of eight for the second straight season.
Danny Green had 15 points to help the Tar Heels (35-2) set a school record for victories while continuing their dominant tournament run. The No. 1 overall seed has won its first three NCAA games by 20 or more points for the first time in program history as it chases a record 17th trip to the Final Four.
North Carolina will play third-seeded Louisville, which beat Tennessee, on Saturday with a clear home-court advantage, playing in an arena located about two hours from its Chapel Hill campus.
On this night - facing a team that had completely shut down its first two tournament foes - everything started with a defensive performance that was the school's best in the tournament since before Williams was born.
"We continued to talk about this throughout the year, the fact that we're tired of hearing that North Carolina can't play defense and that's going to be our weak link," junior Marcus Ginyard said. "But tonight, I think you see that this team has the capability of buckling down and being that great defensive team."
There was no room to argue with the Tar Heels' vocal leader. Fourth-seeded Washington State (26-9) managed just 18 field goals for the game while scoring 20 points below its average. The Cougars also went 2-for-16 from 3-point range as the Tar Heels pulled away.
The 47 points were the fewest allowed by the Tar Heels in an NCAA game since 1946.
"Defensively we thought we were really good," Williams said, "but yet let's be honest: they missed some open shots."
North Carolina improved to 24-1 in NCAA games played in its home state and is 7-0 all-time in Charlotte Bobcats Arena. Now the Tar Heels can focus on erasing the lingering memories from last year's final game: a blown double-digit lead late in the second half of an overtime loss to Georgetown in the regional finals.
"We know what happened. We know that feeling," Hansbrough said. "We don't want to have it again. That's kind of our attitude, and that's the mentality we have."
For the first time in this tournament, the Tar Heels, the nation's second-highest scoring team, didn't crack 100 points. It didn't matter. Nor did it matter that Hansbrough struggled much of the way. Instead, facing a deliberate Washington State team that had held Winthrop and Notre Dame to a combined 81 points in the tournament, the Tar Heels looked determined to prove they could play some tough defense, too.
Washington State missed shot after shot - sometimes open, more often not - while the Tar Heels kept pushing forward with their slowed-but-effective transition attack. The Cougars got little from the perimeter, with Kyle Weaver and Taylor Rochestie scoring a combined 12 points on 4-for-21 shooting.
"It was freezing out there," said Weaver, who had 10 points. "We got a lot of good looks offensively, but we were pretty awful."
Derrick Low and Aron Baynes scored 14 points to lead the Cougars.
Meanwhile, the Tar Heels kept the pressure on, gradually getting more runouts in transition and increasing the pace to steadily build the lead. North Carolina led 35-21 at halftime on a 3-pointer from Ty Lawson just before the horn, then got a quick six-point burst to push the lead to 47-27 on Alex Stepheson's three-point play with 11:45 left.
"That's something everybody's been talking about: if teams slow it down on us, we're not as effective," said sophomore Wayne Ellington, who had 13 points. "But we've been through that this year. We've been through that in the regular season, with teams trying to stop us from running. And they haven't been very good at it. If a team makes a shot, we're going to get the ball up and attack."
The Tar Heels had too many weapons for Washington State's methodical offense to keep pace, leading by as many as 26 points late.
"We've played some really good teams in our league with some different styles," Washington State coach Tony Bennett said, "... but North Carolina is very special."
Bennett couldn't complain with his team's early defense on Hansbrough, who faced constant double teams any time he touched the ball near the paint. He went 0-for-4 from the floor and managed only a pair of free throws while committing three turnovers in the first half, but scored eight points in the first 6½ minutes after the break to finally get going.
Green, seemingly the only Tar Heel to struggle with his shot in the first two rounds, provided an immediate lift off the bench, scoring 12 points on 5-for-7 shooting with a pair of 3-pointers in the opening 20 minutes.
More like this story on KUsports.com