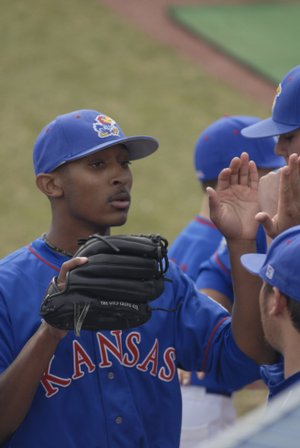 Kansas University's baseball team tallied a 6-4 victory over Chicago State on Tuesday at Hoglund Ballpark.
But they also got one upset coach in Ritch Price.
"I was really disappointed with our performance offensively. There's no doubt about it," Price said. "We just don't string 27 quality at-bats in a row as a team. You can look at some of the bats that were really good today, and then we just had some friggin' awful at-bats."
Four of KU's six runs came from the bat of John Allman, who went two-for-two with a pair of doubles.
Robby Price and Jimmy Waters also collected two hits for the Jayhawks.
In Waters' case, one of them was a solo home run to spark a two-out, four-run rally in the fifth inning.
"It was just a first-pitch fastball, and he left it up there," Waters said of his first homer of the season. "I usually swing at the first pitch around the strike zone, and he just left it middle-in, and I just turned on it."
The Jayhawks had just two other batters collect a hit. KU's fourth through eighth batters were a combined 1-for-18, with Ryne Price's RBI single in the fifth accounting for the only hit by the five batters.
To make matters worse, Kansas' bullpen began to slip in the ninth inning, allowing three runs, a walk and three hit batsmen - two by Paul Smyth that brought in runs.
Smyth, KU's closer, was called in after Daniel Manos loaded the bases with a walk, single and a hit batsman. Smyth gave up a single and then plunked two batters before collecting the final two outs of the game on a strikeout and a groundout.
"Smyth has had some trouble in the past when the bases loaded, for whatever reason that is," Ritch Price said. "So I think it was good that he got in the game and he got in trouble and found a way to get out of it."
The ninth-inning debacle nearly prevented starter Sam Freeman from earning his fourth win of the season.
With Texas A&M; coming up this weekend, Freeman got limited work against the Cougars. The junior transfer from North Central Texas went six solid innings and allowed just one run while striking out six batters.
More like this story on KUsports.com