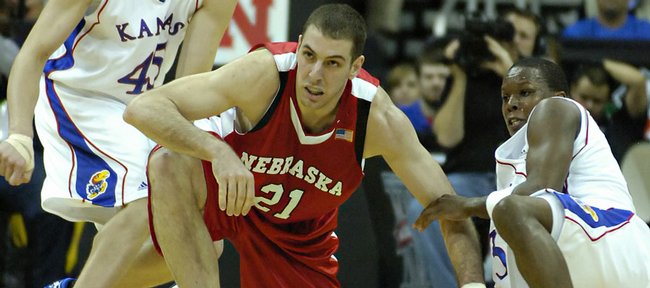 Audio clips
2007-08 March 14 KU-NU Hoops
Go figure
11
Points by Kansas' five starters combined in the first half
12
KU's turnovers in the first half
15
Nebraska's points off KU's first-half turnovers
6, 6
KU's turnovers, NU's points off turnovers in the second
14-2
Decisive KU run to open the second half
19
Made field goals by each team (NU hoisted 50, KU 41)
15
Points by which KU outscored Nebraska in free throws
15
Points by which NU outscored KU with three-pointers
Kansas City, Mo. — Maybe it's because Kansas University's basketball players had pummeled Nebraska by 35 points at home and 21 on the road this season and expected to pound NU again without breaking a sweat.
Or maybe playing 40 miles from Allen Fieldhouse gave the heavily favored Jayhawks a false sense of security.
Whatever the reasons, No. 2-seeded KU trailed No. 7-seed Nebraska by nine points with 1:30 left in the first half and by five at halftime of a Big 12 tournament quarterfinal clash Friday night at Sprint Center.
KU's sloppy play - the Jayhawks had 12 turnovers against just five assists the first half - had KU coach Bill Self seething at the break.
"He was really frustrated with the way we were playing," KU senior forward Darnell Jackson said, crediting a cutting halftime speech as the main reason for KU's 64-54 come-from-behind victory.
"He didn't freak out at all. The only thing he said was, 'Do you want to go home? Or do you want to advance?' We answered him with our play the second half."
The Jayhawks (29-3) went on an early 14-2 run to turn a 29-24 deficit into a 38-31 lead six minutes into the half.
Brandon Rush, who scored three points the first half, had six points, while Darrell Arthur, who scored two points the first half, had four in the surge.
Rush said Self gave him a piece of his mind in the locker room for not being aggressive.
"I really deserved it. I played crappy the first half. I can't even say the words he said," Rush said with a smile. "He wasn't loud. He was moving around and talking. He said, 'We've got to pick up the intensity, energy, quit committing so many turnovers.'"
"He said we had to play better. We were flat. We didn't come ready to play," noted sophomore guard Sherron Collins, who had seven second-half points.
Obviously concerned his team came out with so little energy, Self is hoping for focus from the start in today's 3:20 p.m., semifinal game against Texas A&M; - a 63-60 winner over Kansas State on Friday.
"I will be real candid. I was very disappointed in our team in the first half," Self said. "I was disappointed how we got frustrated. I was disappointed in our energy level. Not that we weren't trying. We played tight. When you play tight, you don't play with as much energy.
"The thing I was most disappointed in : we are athletic enough we should be a great loose-ball team, and they beat us to the loose balls. At halftime, we didn't talk about X's and O's. We talked about getting back to who we are: 'If it means as much to you as I think it does you'll play better.' And they performed pretty well the second half, especially starting out."
Self does understand - sort of - how a team like KU could be a bit off in Round One of the conference tourney.
"It's a shame you have to get on guys to get 'em to play like that," Self said. "But to be honest, how many teams struggle as a higher seed in the first round of a tournament against a team that won yesterday? It happens all over the country."
KU's coach wasn't particularly alarmed at the off nights of any individual players, like Arthur, who had six points off 1-of-4 shooting with five rebounds in 24 minutes.
"He just didn't have a good night," Self said. "He played better the second half. He needs to be a guy to get you 15, 20 (points) a night. Tonight he had six. He wasn't a presence like he's capable of being, but he'd been pretty good lately."
KU had just three double-figure scorers. Collins led the way with 13, and Jackson and Chalmers had 12 apiece.
"We have to play better than that. We will play better that," Jackson said defiantly.
More like this story on KUsports.com