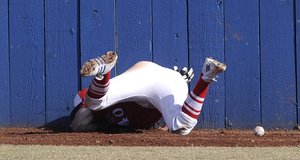 The only thing missing from John Allman was him calling his shot before hitting a three-run home run in the first inning of the Kansas University baseball team's 8-1 victory Tuesday over Tabor at Hoglund Ballpark.
After Nick Faunce and Robby Price led off with back-to-back bunt singles, Allman was given the green light and wasn't about to join the first two batters with bunts.
"They didn't ask Babe Ruth to bunt, either," KU coach Ritch Price said. "We were going to give him an opportunity to swing the bat, and he lasered it out of the park. That's what we expect."
Allman said he wanted to keep the plate appearance as simple as possible.
"I was just looking for something in the middle, something that I could put a swing on," Allman said. "I got it elevated enough and got it over the fence."
Not to be outdone, Erik Morrison rocketed a hanging breaking ball for a leadoff home run in the the sixth. The solo shot was his first homer of the season.
"I was hoping I'd get a hanger in my first two at-bats," Morrison said. "So I finally got lucky and caught one that kind of hung up inside. I guess I put a decent swing on it."
The win marked the 800th victory in Price's 30 years of coaching spanning Division I, junior college and high school.
"I've been really blessed with the opportunities I've had in the game," Price said. "I've taken over some of the worst programs in America and been given the opportunity by those athletic directors to turn the program around. It's no different when I got here.
"It was one of the worst programs in America that played in a major conference, and (AD) Lew Perkins has given me everything we need to be successful. We have this thing going in the right direction. No. 800 is good today. I'm trying to win 1,000 before I'm done, and I figure that will give me 10 more years here before Lew kicks me out the door."
More like this story on KUsports.com