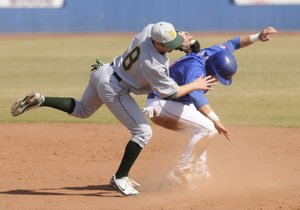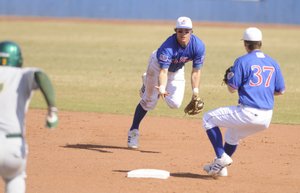 Catcher Buck Afenir's return may be just what pitcher Nick Czyz needed to jump-start his junior year.
Afenir, who had been out for the last week nursing a hamstring injury, took his position behind home plate for Czyz's best performance to date in a 13-0 victory in the first game of the Kansas University baseball squad's doubleheader against North Dakota State on Sunday at Hoglund Ballpark.
"That was one of the best I've seen him throw, today," said Afenir, who has been catching Czyz's games since they arrived at KU as freshmen. "He was just hitting his spots. That's the kind of guy I like to catch. It makes my job that much easier when he's on like that."
Czyz, who came into the game with an earned-run-average of 10.24, went six innings in the run-rule-shortened game and struck out 11 Bison batters while giving up four hits and two walks.
"I love throwing to Buck. He's a great catcher," Czyz said. "He's real good on the mound when he comes out to talk to me. He knows exactly what I want to throw. ... I've still got to go out there and make my pitches no matter who is behind the plate, but there's more of a comfort factor, I'd say, with Buck back there."
Afenir helped in the batter's box as well. In his first at-bat, the junior catcher hit a lead-off home run in the second inning.
"I've been waiting a week to see a pitch again," Afenir said, "so I was just foaming at the mouth pretty much."
Ryne Price and Erik Morrison each knocked in two batters for Kansas during Game One.
KU's pitching wasn't quite as stellar in the early goings of Game Two against NDSU, but the Jayhawks' offense carried over in an 11-9 victory.
Morrison knocked in three more batters in the second game, but also had three errors.
"It felt good to square some balls up since I haven't really squared too many balls up lately," Morrison said. "But obviously I'm struggling with the glove on one side of the ball. It's definitely good to be able to be successful in the other aspect of the game. So that was a real positive today."
Andres Esquibel relieved starting pitcher Sam Freeman, who went one-plus innings and surrendered five runs. Esquibel went six scoreless innings and collected his first win of the season.
Paul Smyth was called in to stop a three-run rally by the Bison in the ninth. He picked up his second save of the series and the season.
"It got a little scary in the ninth inning, there's no doubt about it," KU coach Ritch Price said. "Obviously we wouldn't have liked to have seen it get as close as that, but I also think it's good for (Smyth) to come in, in that situation, and try to find a way to get a couple left-handed hitters out because that's what he really struggled with a year ago."
Kansas will be back at Hoglund Ballpark when it plays host to Tabor College at 3 p.m. Tuesday.
More like this story on KUsports.com