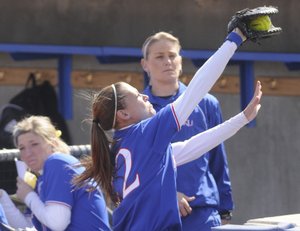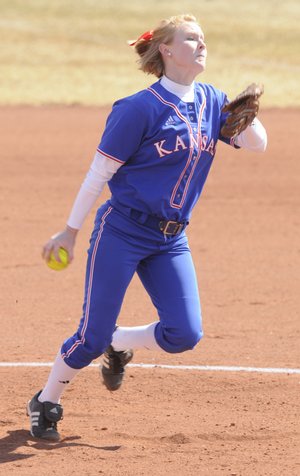 Amanda Jobe slammed five home runs in 56 Kansas University softball games last season.
This season, Jobe has five home runs in 15 games.
Jobe's latest blast was a two-run, 10th-inning shot that lifted the Jayhawks to a 4-3 victory over Pittsburgh on Sunday afternoon at Arrocha Ballpark.
"I hit a few here and there, but, no, I'm not trying to hit home runs," Jobe said. "I'm definitely not trying."
Still, statistics don't lie, and the sophomore first baseman out of Shawnee Mission Northwest is the Jayhawks' early home-run leader.
"I just found a pitch to hit this time," Jobe said about her homer off Pitt's Cory Berliner. "She had kind of a funny spin on the ball I was having trouble with, but she left it over the plate that time."
Jobe, who also stroked a double in five at-bats, didn't play in the second game as Kansas posted another 4-3 victory, this time in regulation over Indiana State, the team KU had thumped, 9-1, in Saturday's Jayhawk Classic opener.
Sunday's two victories pushed KU's win streak to six and elevated its overall record to 18-5, making it the Jayhawks' fastest start in five years.
"What's unusual is the way we're winning games," coach Tracy Bunge said. "It's not just one kid. We're doing the good little things you need to do to win ball games."
Except for Jobe's power and center fielder Dougie McCaulley's hot bat, KU hasn't been all that impressive at the plate. The Jayhawks went into this weekend tournament with a .237 team batting average.
"Offensively, we haven't wowed anybody," Bunge said. "People say, 'Who's leading us?' and I say, 'Pick a day.'"
In Sunday's two games, left fielder Ally Stanton and shortstop Steve Crisosto paced the Jayhawks with three hits apiece, yet prior to this weekend they had been batting .150 and .111, respectively.
While the hitting has been spotty, the pitching hasn't.
Junior Valerie George has emerged as the staff leader. The right-hander from Tucson, Ariz., pitched all 10 innings of the Pitt game to post her eighth win in nine decisions.
In the Indiana State game, freshman Allie Clark earned her fifth win.
Sarah Vertelka picked up her first save.
"George has been super," Bunge said, "and Vertelka has been very good at times. And Allie has shown glimpses of having good stuff."
KU's pitching wasn't expected to be this strong after the graduation of Kassie Humphreys, who wrapped up her college career last spring ranked in the top 10 in several school career hurling categories.
"It's been fun being the underdog," George said. "We're getting the job done."
Kansas will conclude the weather-delayed Jayhawk Classic against Western Illinois at 2 p.m. today. The Jayhawks will play host to another home tourney this weekend.
More like this story on KUsports.com