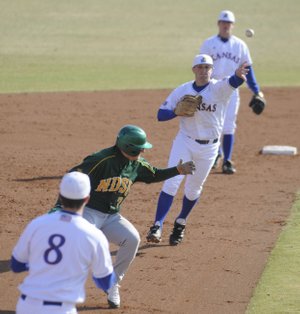 When all else fails, just hope the opponent makes the mistakes.
That's how it worked for the Kansas University baseball squad Saturday against North Dakota State at Hoglund Ballpark.
With the NDSU pitchers silencing the Kansas bats, KU waited it out.
Finally the ball bounced the Jayhawks' way, and they quickly took advantage of two blunders by the Bison for a 4-3 victory in 10 innings.
"We really struggled with their change-ups," Kansas coach Ritch Price said. "But it was good to see us come from behind and find a way to win late."
With senior John Allman situated at first base, senior Ryne Price came up to the plate with two outs in the bottom of the 10th. After he fell behind in the count, North Dakota State pitcher Matt Bowar made an errant pick-off attempt, allowing Allman to advance to third base.
Ryne Price slapped the 3-2 offering from Bowar into center field to score Allman for the game-winning run.
"I don't even know what it was really," Ryne said of the pitch. "I was just trying not to hook it or be out in front of it and just stay back. He left it up a little bit, and I was able to get it squared away."
In the sixth inning, with the Jayhawks trailing for the first time in the game, 3-2, senior Casey Larson reached second base to lead off the bottom half when the left fielder dropped a fly ball.
Larson advanced to third on a wild pitch and scored on a groundout by Tony Thompson.
The biggest at-bat for Thompson, a freshman third baseman from Reno, Nev., came in the fourth inning. With Kansas struggling to get any offense going, he knocked a 2-1 pitch just inside the left foul pole for his first career home run.
"It was a close win, so it ended up being a big difference in the game," Thompson said. "Maybe that will get me on a roll a little bit now."
While the offense was in short supply, the pitching prevented the Bison from doing much damage despite getting 10 hits.
KU starting pitcher sophomore Shaeffer Hall went five innings, giving up seven hits while striking out eight batters.
After senior Andres Esquibel gave up one run in one inning, sophomore Brett Bollman and junior Paul Smyth each pitched two strong innings.
Smyth struck out three batters and was aided with a double play in the 10th inning to pick up his first win of the season.
"I was pleased with our pitching," Ritch Price said. "I thought Shaeffer did a nice job of mixing his pitches and using his change-up to be effective. I thought our bullpen was solid as well."
More like this story on KUsports.com