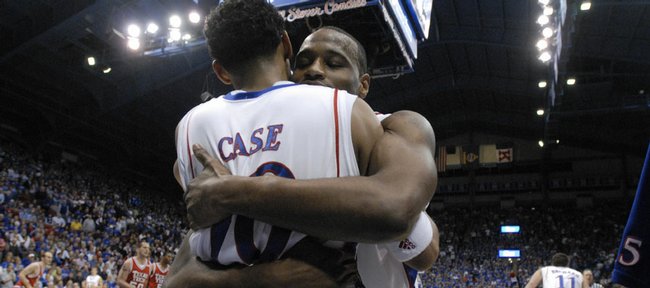 The thunder inside Allen Fieldhouse grew even more deafening Monday night as Jayhawk fans saluted their seniors.
Fans doted over the seniors - Darnell Jackson, Rodrick Stewart, Jeremy Case, Russell Robinson and Sasha Kaun - on Kansas University's Senior Night.
"They've all represented us well," said Marv Nuss, a '73 alumnus. "This is one of those special classes. We've had some like this before, but this is one of those special ones."
Everyone seemed to have kudos for the players.
Ryan Bigley, a senior from San Antonio, Texas, said Stewart stands out.
"He came to Kansas to play," Bigley said. "He could have played with his brother at (Southern California), but he transferred here. I dig that."
Shannon Ferguson, a Kansas native who drove from Watertown, S.D., to Lawrence for Monday night's game, said she's been impressed by Jackson's work ethic.
"He's actually an offensive contributor now, whereas last year it just seemed like he was a body in the center," she said.
KU freshman Zakary Martin said Robinson has shown good ball handling.
"He runs the floor well," he said.
Nuss, who holds a degree in engineering, said he's been impressed by Kaun's work as a computer science student.
"I've talked to the dean of engineering about Sasha's progress," he said, adding that Kaun has done well in school.
"He's doing it on the floor," Nuss said. "Knowing that he's doing it in the classroom is a special treat for me."
But as KU topped Texas Tech, 109-51, fans weren't spending too much time stuck in retrospection.
Jeffrey Hudson, a cousin of sophomore Sherron Collins, said he predicts big things.
"If they can take the Big 12 tournament, I can see them in San Antonio for the Final Four," he said.