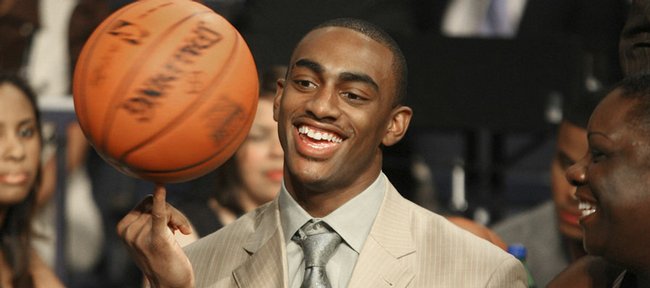 Hawks in the NBA
Darrell Arthur, one of the heroes of Kansas University's national championship victory over Memphis, was introduced to the media and public as a member of the NBA's Grizzlies on Friday in Tennessee.
The 6-foot-9, 225-pound forward from Dallas was asked at a news conference what he had to say to Memphis Tigers fans, still steamed that his 20-point, 10-rebound effort helped the Jayhawks to a 75-68 overtime victory in San Antonio.
"Don't hate me too much. I was just doing what I was told," Arthur said with a laugh.
"And I'm sorry."
He was in a jovial mood just hours after a painful NBA Draft in which he sat in the green room at Madison Square Garden and watched his name drop from the lottery to No. 27 overall because of a rumored kidney condition.
"I got selected by New Orleans, got traded to Portland, got traded to Houston, then got traded here," Arthur said of a wacky draft night.
"I really didn't want to go too far to Portland so this is the best possible thing for me. We have a young roster. I'm going to try to impact this team in a positive way."
Who knows where Arthur would have been selected had there not been a misunderstanding about his rumored kidney condition? What is known is he had an elevated reading on a kidney test conducted at the Orlando draft camp in early June.
Several teams heard about that test, but not about a test conducted Wednesday by the Washington Wizards, which reportedly showed no kidney problems for Arthur.
"In Orlando, I had the bloodwork done, and my kidney level was high. I was taking Claritin for my cold. They said that was probably the reason for it. I got bloodwork done in Washington the day before the draft, and everything came out fine. I thought everything would be fine. I thought the teams would have been notified about it, but I didn't know what was going on," Arthur said.
His agent, Jerry Hicks, gave his version to Luke Winn of Sports Illustrated. Hicks told SI.com that tests in Orlando had Arthur's blood containing higher than normal levels of creatine, which can indicate kidney failure or malfunction.
After Philadelphia expressed concern on June 24, Hicks had Arthur take another test Wednesday in Washington.
"We did the bloodwork on the morning of the 25th, and by noon, (the kidneys) were determined to be completely normal. I received a message from Washington - which is still saved in my voice mail in my office - that everything was normal. Philadelphia received word that things were normal. How this became an issue around the league is puzzling, to say the least," Hicks told SI.com. Just two teams in the league knew the truth about Arthur, Hicks said.
Arthur wasn't blaming the NBA or his agent for not spreading the word about his kidney actually being fine.
KU coach Bill Self tried his best to help out Thursday night when frantically contacted by NBA teams who initially wanted to take Arthur.
"He shouldn't have fallen outside of 15, no way," said Self, aware the difference between guaranteed money of the top 15 and 27 picks is $1,118,000 over two years.
"I talked to NBA teams last night that were picking in the next three minutes saying, 'Bill, what's up? Can you give me stuff?' And we're talking to people and we're telling them who to call and all that stuff and we never saw any of the reports. We're saying, 'Call the Wizards. Call the Wizards. Call the Wizards,' because I was scrambling around trying to get information myself because this was unknown to me until the night before last."
That's because the durable Arthur had no kidney problems at KU.
"They (NBA general managers) said one minute before the draft, 'We can't take him, can't take him, our doctors won't let us take him,''' Self related. "That's sad because if that's not the case somebody really dropped the ball. I don't know what the reasoning was but I hope they had a valid one.
"It's sad for Shady and his family, but Memphis got a really good player in him. How often do you have a pick at 27 that would have a chance of starting in the NBA as a rookie?"
Memphis general manager Chris Wallace indeed gushed about Arthur at the news conference.
"In 1998, when I was working for the Boston Celtics we got lucky with another Kansas Jayhawk when Paul Pierce fell to us at No. 10," Wallace said. "I feel the same way to get Darrell to slide to the end of the first round.
"I know he wasn't very happy last night. His misfortune was our fortune. I think he'll profit for coming here. This community will embrace him with open arms.
"Darrell," Wallace added, looking at Arthur straight in the eyes, "sorry about what happened last night in a way, but kind of glad it did happen to you last night, all right?'''
That's because the Grizzlies are elated to have him aboard. Arthur said he is simply happy to be in the league after two years at KU. He's been a buddy of former USC guard O.J. Mayo, also acquired in the first round via trade, for years.
"I've been knowing O.J. since seventh grade, competing in AAU ball, playing for USA Basketball, hanging out with him over the years," Arthur said. "He's always been a great friend. We'll work as hard as we can, listen to the coaches, listen to everybody trying to help the team."
And as far as beating the University of Memphis back in April?
"He doesn't have one feeling of regret in his body," Grizzlies owner Michael Heisley said with a big laugh.