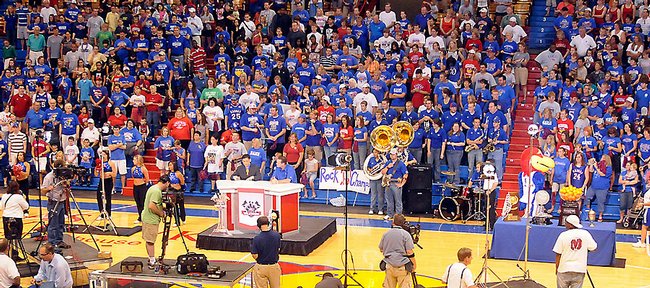 Lawrence: City of Champions?
About 2,000 Kansas University fans made the case to name Lawrence ESPN's "TitleTown USA," as the sports network filmed a segment on Friday at Allen Fieldhouse. Earlier this week, ESPN named Lawrence one of 20 cities vying to be named the nation's top championship city.
Buoyed by members of the KU band, fans waved signs, pompoms and giant cardboard cutouts of KU basketball players.
Men's basketball coach Bill Self was the guest of honor during the segment, which will air between July 4 and July 23. The competition, which pits Lawrence against cities such as Boston, Ann Arbor, Mich., and Massillon, Ohio, will be determined by online voting between July 23 and July 26.
While Self was interviewed by ESPN reporter Darren Lyn, fans were asked to silently show their support so that Self and Lyn could record the interview. It made for a surreal atmosphere at the fieldhouse, which veered from eerily silent to rambunctious.
Zak Rosenberg, a lifelong Jayhawk fan from Millersville, Pa., was visiting family in Lawrence. He called the crowd "electric."
"It sounded as loud as it does during games," he said. "That's what the Jayhawks do to you. They make you a better fan, they make you a better person."
Self said he didn't know much about the competition until he arrived at the fieldhouse Friday morning, but was certain Lawrence would make its voice heard.
"Based on the limited knowledge I have, I can't believe that anybody is more excited per capita than we are here in Lawrence, Kansas," he said.
Jayhawk fans came prepared.
Juan Heath, Overland Park, wore a KU hard hat and a Kansas license plate that said "Beak Em" around his neck. He said the city's biggest competition would be Boston, but thought Lawrence had a shot.
"I think we deserve to be there. The great tradition and history of the Kansas basketball program, the fact that the football program really came out of nowhere. ... I definitely think we're legitimate," he said.
And while KU held the spotlight, Heath was sure to give a tip of that hat to the athletic tradition of Lawrence high schools.
"I'm a lifelong Kansas resident, so I understand Lawrence High School had many years of dominance, and Lawrence is a great place, so it definitely deserves to be represented on ESPN," he said.
Lyn said all the elements were there for Lawrence to compete.
"I think all of the different sports elements, from the high school level to the college level to the pro level make a difference in this TitleTown," he said. "I don't think it hurts when you have the most state championships for Lawrence High School, and that the football team has the most undefeated seasons."
"TitleTown USA" will be revealed on July 27.
More like this story on KUsports.com