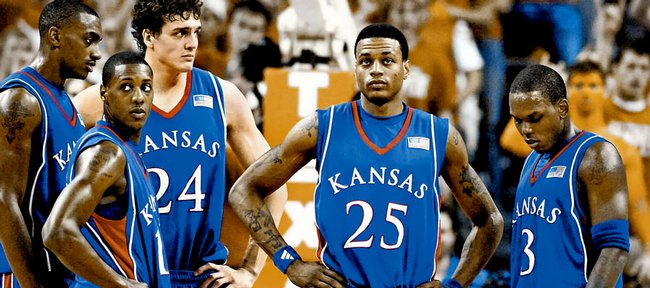 Videos
Jayhawks selected in the 2008 NBA Draft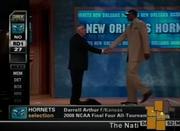 A total of 5 Jayhawks were selected in the 2008 NBA Draft, tying the all-time record.
Kansas University tied a record with five players chosen in Thursday's NBA draft. All five players were traded by the teams that selected them and Darrell Arthur was dealt three times.
Brandon Rush was taken 13th in Thursday night's NBA draft, Darrell Arthur 27th, Mario Chalmers 34th, Darnell Jackson 52nd and Sasha Kaun 56th.
The Portland Trailblazers selected Rush and traded him in a five-player deal to the Indiana Pacers. Darrell Arthur, reportedly because of concerns over the health of his kidney, slipped all the way to 27th, where the New Orleans Hornets selected him and traded him to the Trailblazers, who dealt him to the Houston Rockets, who then traded him to the Memphis Grizzlies. Chalmers slipped into the second round and was selected by the Minnesota Timberwolves, who were making the pick for the Miami Heat. The Heat will send two second-round picks and cash to the Timberwolves in exchange for the rights to Chalmers.
The Miami Heat selected Darnell Jackson with the 52nd pick and later dealt him to the Cleveland Cavaliers.
Kaun was selected by the Seattle SuperSonics, who sent him to the Cavaliers.
After selecting Rush, Portland traded him, Jarret Jack and Josh McRoberts to the Pacers for draft choice Jerryd Bayless and veteran Ike Diogu. All draft-night trades were pending league approval. Rush's trade to Indiana put him on the same team his brother, Kareem, played for last season. He is a free agent uncertain if he will return to the Pacers.
Arthur slipping so far in the draft became a mystery that ESPN's Ric Bucher attempted to clear up by revealing that multiple NBA general managers told him that they learned of kidney concerns regarding Arthur, requested results of lab work and were not given them.
Asked about the condition of his kidney by ESPN's Stephen A. Smith, Arthur said, "My health is fine. I took another blood test in Washington and everything came out fine, but I guess those guys never contacted anybody. Everyhting is cool."
Kansas tied an NBA draft record by having five players chosen in the same draft. UConn (2006) and Florida (2007) had five players taken in previous drafts.
More like this story on KUsports.com