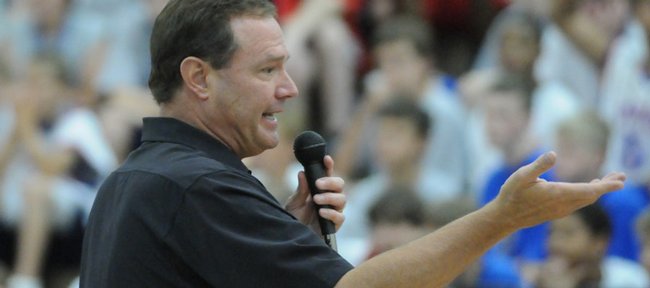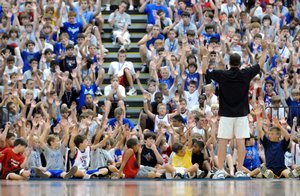 It's easy for Kansas University sophomore Tyrel Reed to relate to the 1,000 or so youths in town for Bill Self's basketball camp.
Reed made the short trip from Burlington many times during his grade school and high school years.
"Probably six years - one when coach Self was here, the rest when coach (Roy) Williams was here," Reed said Tuesday.
"It's good for young kids, teaching them the game and having a good time. It's just a good camp," added Reed, who years ago never imagined he'd win a national championship at KU.
"I'm truly blessed to be in this position. Hopefully it just keeps getting better."
The 6-foot-3 Reed, who played sparingly his freshman season, is one of just four returning scholarship players from KU's national-title team.
Five seniors have departed as well as NBA-bound Darrell Arthur, Mario Chalmers and Brandon Rush.
Chalmers on Sunday made his departure official, indicating he would sign with an agent and remain in the June 26 draft.
"We all knew Mario had a good opportunity to pursue his career in the league. He's going to be a great player there," Reed said. "We've known we could be losing all those players. We've been prepared for it.
"I think there's always (playing) time available no matter who is here. I think it's who is playing well at the time. You just have to show people (coaches) who is the best. I think coach Self will determine that."
Self said Reed should consider himself a prime possibility for meaningful minutes during the 2008-09 season.
"He is getting better. He and Brady (Morningstar) have both gotten a lot better," Self said. "Cole (Aldrich) and Sherron (Collins) will be two of the better returning guys in the league. Tyrel and Brady will need to step up and be players for us. Both have that window of opportunity to step in and contribute. Nobody will out-work Tyrel, so I anticipate him being right in the mix."
Reed said incoming guards Tyrone Appleton (Midland College) and Tyshawn Taylor (St. Anthony High, New Jersey) had fared well in pick-up games.
"Tyshawn is very athletic. Tyrone is a great defender. I think they'll be fine," Reed said. "It'll be an adjustment like any player has, but with time, they'll be fine."
¢Little en route: Self is expecting the arrival of incoming guard/forward Mario Little today. Little, 6-foot-5 from Chipola Community College, completed his final course at the Florida school and likely will play in this afternoon's camp game between current and ex-Jayhawks. Self believes twins Marcus and Markieff Morris of Philadelphia will be in town within a couple weeks. Self does not expect the duo to have problems attaining collegiate eligibility.
¢Tickets to cost $55 apiece: A KU men's basketball ticket will cost $55 during the 2008-09 season, an increase of $10 per ticket from last season. Parking will be $346 total or $17.30 per game, compared to $15 a game last year. Parking prices are set by KU's parking department, not the athletic department.
"We have the premier basketball program in the country, and we want to keep it that way," KU associate athletic director Jim Marchiony said, asked about the price increase. "Not only do we have a great basketball program, but we have many exciting things about to happen to Allen Fieldhouse and our facilities, and it's important for us to give our fans their money's worth. We think we've done that and will continue to do that."
¢Macneill leaving KU: Brandon Macneill, who has worked for KU's athletic department since October 2003, has accepted a job as senior associate AD at his alma mater, Tulane University.
Macneill has been KU's associate AD for administration since July 2004. He started as KU assistant AD for strategic planning in 2003.
"I think it is something he is ready for. He has been a terrific member of our staff. He's worked for me for almost five years. I've given him more responsibility than I've given any employee ever. He's handled it terrifically," Marchiony said.
¢Collins update: Sherron Collins, who is likely to appeal, currently is responsible for a $75,000 judgment in a civil suit. One is left to wonder how a college junior might come up with $75,000.
"How any student reacts to a judgment like this is based on what the final judgment is, how the decision is rendered. We are a long way from that. It is way premature to even discuss that," Marchiony said.
He was asked if students may take out loans to pay for such judgments.
"Any student can get a loan from someone through a normal process," Marchiony said. "It is way too early to project what might happen."
In some cases, the legal system can seize the property of individuals unable to pay large judgments.
Marchiony said the university can not pay Collins' legal fees. The athlete has to come up with any attorney fees on his own.
As to whether KU would work with Collins' legal representation, Marchiony said: "Again, it's up to his attorney, whether he or she wants to involve somebody from Kansas Athletics in this process."
¢Langford to Raptors camp: Former KU guard Keith Langford, who will play NBA summer league ball for Chicago and Denver in July, will attend free-agent camp of the Toronto Raptors this weekend.
¢NBA Draft bonanza: KU coach Self on Tuesday said he thought five Jayhawks would be selected in next week's NBA Draft. Rush, Chalmers and Arthur are said to be locks for Round One. He said Sasha Kaun and Darnell Jackson are likely second-round picks. He did not discount the possibility of Russell Robinson being selected by a team looking point guard from a winning background.
More like this story on KUsports.com