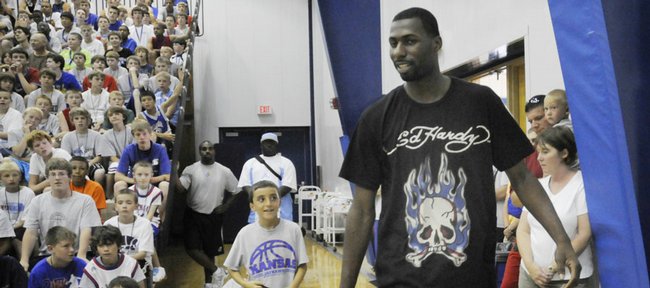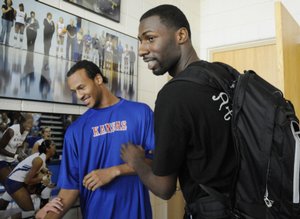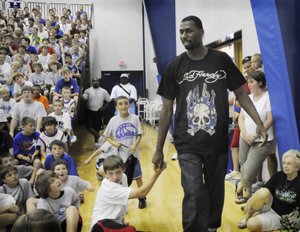 Julian Wright walked into Kansas University's Horejsi Center on Tuesday afternoon wearing a black Ed Hardy T-shirt and matching bookbag draped over his back.
"A nice black bookbag, not pink," the 21-year-old former Kansas University basketball forward said with a smile.
Pink is the color of the backpack Wright was forced to wear on all road trips as an initiation ritual during the 2007-08 season - his rookie season with the New Orleans Hornets of the NBA.
"Bobby Jackson, who was traded to Houston, thought of it. He didn't play around with anybody," Wright said. "It was definitely an experience."
The 6-foot-8, 225-pound Wright - he left KU after two seasons to enter the 2007 NBA Draft - said wearing pink as a gag actually helped his self esteem.
"I learned how to have some confidence, not care what people think," said Wright, who was used sparingly until March when he entered the Hornets' regular rotation. He finished with a 3.9 scoring, 2.1 rebound average while logging 11.2 minutes a game in 57 games.
"You walk into an arena and you know you've got a pink Disney bookbag on your back, you stick your chest out to people who come up to you and say, 'Hi, how are you doing?'
"If you look like this," Wright added, hanging his head, "people will attack you. Your teammates as well. They want to see how you respond.
"It's all laughs now because I'm not a rookie anymore. At the time it was, 'Come on, hurry up and be the playoffs.'''
It was the start of the playoffs when Wright was informed the pink backpack/bookbag had to go.
"(Point guard) Chris Paul said, 'No more bookbag. You are no longer a rookie. Come playoffs you've got to grow up.' That's the attitude I want to take into the summer and next year," Wright said.
He believes he grew up halfway through the season when former Iowa guard Adam Haluska was released.
Like Wright, Haluska was a rookie.
"Here I am after the all-star break the only rookie on the team. That's when I finally started to understand everything - back against the wall, me against the world in terms of my development. Nobody else could to it but me," said Wright.
He began asking the right questions of coach Byron Scott at practice and finally started doing the things Scott wanted.
"All along I wanted to be out there, but I didn't understand what it took from a maturity standpoint. I had to figure out what was necessary in taking care of your body and asking the right things of coaches, looking for extra help," Wright said.
"What happened is David West was hurt and I was having a good stretch of practices. I got confidence from playing in practice. I finally started to understand defensive schemes which is what he (Scott) was looking for. That's what keeps you on the floor."
Wright averaged 4.3 points and 1.3 rebounds in 11 playoff games. The Hornets ultimately were eliminated by San Antonio in a seven-game Western Conference semifinal series.
"Our coach got a two-year (contract) extension. I know he'll be able to help me build on what I did this year and vice versa. I'll be able to bring a lot to the team next year," said Wright, who will play for the Hornets' summer league team in July in Las Vegas.
"There's a lot of turnover in coaches in the league. The fact he'll be there ... I can get established in the Hornets' system and thrive in it."
Wright, who was born and raised in Chicago, has purchased a house in New Orleans, a city still recovering from Hurricane Katrina.
"I want to help others, maybe start a foundation in the future," said Wright, who as a rookie made $1,449,300 last season, to be followed by $1,558,000 next year, $1,666,700 his third year and $2,381,714 his fourth campaign.
"I've always been the type to not be selfish. People have helped me along the way. I want to give back and eventually do some things in Chicago, too. Right now I want to help New Orleans more than anything. It's come a long way but will take more than three years to be on its feet."
Wright is in town until Thursday playing in pick-up games with the national champion Jayhawks.
He was thrilled to be in San Antonio for KU's national title victory over Memphis.
"I got a little choked up knowing they wanted me to come on stage with them," said Wright, waved onto the court by his former teammates for the postgame awards ceremony at Alamodome. "They told me I was definitely a part of the team. They wanted me to go back into the locker room and celebrate with them. It was really touching."
Wright said he realized when he turned pro that he might be missing out on a special KU season.
"No I wouldn't change anything. I felt it was time for me to move on, go to the next level," Wright said. "I knew I was leaving a great situation, that we had the potential to win it and we did. It was tough. I had to make a decision and I was confident in the decision. Keeping in touch with the guys all season made it easier for me. It's great what they accomplished. I was happy I could be there to see it."
¢ Rookie initiation: Wright, who tends to speak in rapid fire sentences, explained a second, somewhat confusing initiation he took part in during his rookie season.
Wright had to bring a pink baby stroller to all home practices starting the day after Christmas.
"It was my Christmas gift (from the Hornets' teammates)," said Wright, still a 'baby' in the eyes of NBA veterans. "I gave it to an assistant coach. I won't be needing it anytime soon," added Wright, who is single.
¢ Chalmers in Washington: KU guard Mario Chalmers, who has said he plans on remaining in the NBA Draft, was asked by Washington reporters Tuesday if this was a good time to leave college for the pros.
"Definitely," he said after a workout with the Wizards. "It's looking good for me now. The workouts have given me a chance to show what I can do. I feel good about where I am right now."
A reporter speculated Chalmers might be tapped by Washington at No. 18 in Round One.
"They've got some good players. I think it's a good place for me to come in and learn," Chalmers said.
He spoke with Wizards' GM/KU grad Milt Newton at length on Tuesday.
"It was real good," he said of the meeting. "Both of us are Kansas alumni. We talked about how we both have championship rings."
More like this story on KUsports.com