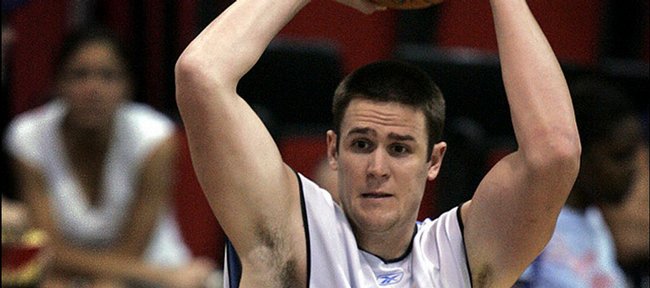 Eric Chenowith emptied a load of laundry on a table in the basement of Jayhawker Towers back in the summer of 1997.
The 7-foot Kansas University basketball center from Villa Park, Calif., had no clue what to do next.
"I was a freshman. My mom had always done laundry for me," Chenowith recalled.
"Paul Pierce saw me. He told me to wash whites in hot water and darks in cold. He told me how to do the whole thing. Paul Pierce taught me how to do laundry.
"He was a man among boys," Chenowith added, a sense of awe in his voice.
Pierce, a 6-7 forward from Inglewood, Calif., who on Friday scored 27 points to lead the NBA's Boston Celtics to an Eastern Conference-clinching victory over Detroit, was a leader not only off the court, but on the hardwood while learning his trade at KU (1996 to '98).
"Paul Pierce is the best player I've ever played with or against on any level at any time," Chenowith said of Pierce, who turned pro after averaging a team-leading 20.4 points and earning first-team All-America honors his junior season for the 35-4 Jayhawks.
"I've never seen anybody take over a game like he did against Oklahoma on Senior Night when he was a junior," added Chenowith, two years behind Pierce in school.
Pierce erupted for 31 points off 14-of-17 shooting - 3-of-3 from three-point land - in the Jayhawks' 83-70 victory over Kelvin Sampson's Sooners on Feb. 23, 1998.
"I remember on my Senior Night, Paul scored like 15 straight points the second half. He just made shot after shot after shot," said C.B. McGrath, assistant coach at the University of North Carolina.
"It was an impressive performance in a big-time game. It meant our senior class went four straight years without losing at home."
Pierce helped make sure McGrath, Raef LaFrentz and Billy Thomas wrapped up their careers 58-0 at Allen Fieldhouse.
"I remember he went on a tear the second half. Kelvin Sampson called timeout after Paul hit another basket and patted him on the butt when he came off the court," said former KU guard Ryan Robertson, who was in the same recruiting class as Pierce.
Sampson's Sooners were helpless as Pierce dominated in what also turned out to also be his last game in Allen.
"Coach Sampson called timeout and gave him a standing ovation. He was saying, 'What else can we do?'" said former KU forward T.J. Pugh, another KU contemporary of Pierce's.
"I know how he felt. I thought I could guard people, but guarding Paul? No way. He got so good his junior year it became embarrassing."
Robertson, regional director of marketing for The Hartford in St. Charles, Mo., and Pugh, a doctor in Denver, remember more than just the OU game, of course.
"The biggest thing to me was watching his development in practice," Robertson said. "I knew him as a freshman when he was a little lost and immature. He came back as a sophomore and was a different person - more serious about his craft.
"Something happened that summer between his freshman and sophomore year. After that, you knew he'd be a great player," added Robertson.
He and Pugh rank Pierce the second-greatest player they've played with or against, right behind Kevin Garnett.
McGrath, like Chenowith, picks Pierce hands down.
"Paul could really score, but he was unselfish, almost to a fault," McGrath said of KU's seventh-leading scorer of all-time who had his jersey hung in the fieldhouse rafters in 2003.
"I knew he'd be a good pro. Did I think he'd be one of the Top Ten players in the league the last six years? That's hard to say. He's a Hall of Famer. To score that many points, be a six-time All Star, get to the Finals (Boston's first trip since 1987) with a chance of winning it all, he has a real chance for the Hall of Fame."
Pierce, 30, who has averaged 23.1 points a game in his 10-year Celtic career, has seen his production "dip" to 19.6 points a game, his lowest total since a 19.5 mark in his second season in the league.
However he's still the team's leading scorer, first-year Celt Garnett right behind at 18.8.
Pierce has said he does not care about personal marks. With Garnett and Ray Allen, his quest all year has been for his first crown.
"He seemed awfully excited," McGrath said of Pierce screaming, "We're in The Finals! Let's get it on L.A.!" during Friday's postgame interview in which Pierce revealed he was a big-time Laker fan as a youth.
"He had a smile on his face the last minute of that game. I'd love to see him win a championship," McGrath added.
"He's having a lot of fun. It's been wonderful to watch," Pugh noted.
Pierce's friends are hoping he snares his first championship the same year his alma mater won the NCAA title.
"I saw Paul last September at coach (Roy) Williams' Hall of Fame induction," McGrath said of a ceremony in Springfield, Mass., attended by several ex-Jayhawks.
"All he wanted to do was reminisce about the old days at Kansas - the road trips, the locker rooms. He wanted to talk about all the good times he had."
"Seeing coach Williams was great, but the highlight for me was seeing Paul Pierce again," Robertson said of the Hall ceremony.
"The fact he's one of the best players in the NBA ... an all-star many times over and multimillionaire many times over ... he couldn't have been more humble, more down to earth."
Yet focused, even at that event.
"That was about the time the Celtics traded for Garnett and Ray Allen," Robertson said. "Paul saw Jacque Vaughn (ex-KU guard with world champion San Antonio) and said, 'We're coming after you this year.'"
Chenowith - who still lives in Southern California and plans on playing overseas next season after a stint in the NBA Developmental League - said there's no way Laker fans will be sentimental about native son Pierce returning home to play in The Finals.
The series opens with two games in Boston then moves to L.A.
"The Laker fans are so brainwashed they are only gonna love the Lakers," Chenowith said. "But the people here do know he's from L.A. Paul will do fine. Knowing him 10 years, playing with him ... I've never seen him this hungry. He has such desire. He really wants it," Chenowith added.