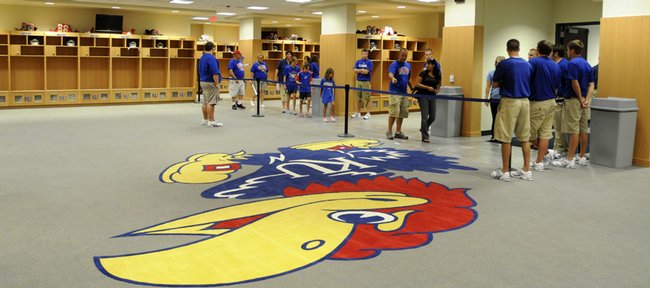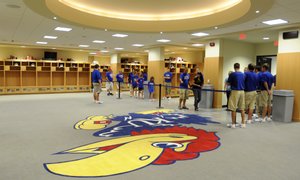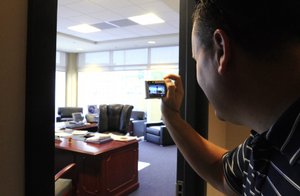 As the line of people waiting to enter Kansas University's new Anderson Family Football Complex grew Wednesday, and as it began to stretch well past the ticket office and down toward 11th St., Rob Crane offered an insight that, in its simplicity, was quite appropriate.
"This is like a movie premiere," said the 35-year-old Olathe resident.
If this was the case, then the program's newest entity enjoyed a whopper of an opening night.
One by one Wednesday, hundreds of local (and not-so-local) residents filed into the complex during an open house tour of the $31 million facility. And one by one, they filed out in apparent awe.
Joyce Halderman, a Lawrence resident, gushed about the weight room. Mark Begert was enamored with the underwater treadmills. Nearly everyone, it seemed, was amazed by the massive office occupied by Kansas football coach Mark Mangino, which stares out onto Kivisto Field and provides one of the best game-day views in Lawrence.
Mostly, though, they were struck by the magnitude of it all.
"You get a lot of big bodies in there, (and) they've certainly got enough space to accommodate them," said Dwight Nichols, 50, who made the drive from Topeka to tour the complex. "The boys will probably be getting lost in there for a few days early on."
University officials opened the facility to the public for two hours to show off the recently completed new home of Kansas football. Many of the team's coaches were on hand for the occasion, including Mangino, who greeted guests as they made their way from one section of the massive building to the next.
And the public, for its part, was receptive.
"They're doing everything they can to attract the upper-echelon of athletes," said Asheiki Preston, who played quarterback for the Jayhawks in the early 90s. "When you're trying to compete against the Texases, the Florida States, the Ohio States, you have to have something attractive, and a facility like this definitely is."
Of course, with greater power comes greater responsibility (read: expectations). And on Wednesday night, a month shy of the Jayhawks' season-opener against Florida International, that responsibility already appeared evident.
"I asked one of the coaches if (the new facility) was good for two to three more wins a season," said Jarrod Nichols, 35, of Olathe. "And he kind of looked at me like, 'Dude, we only lost one game last year.'"
More like this story on KUsports.com