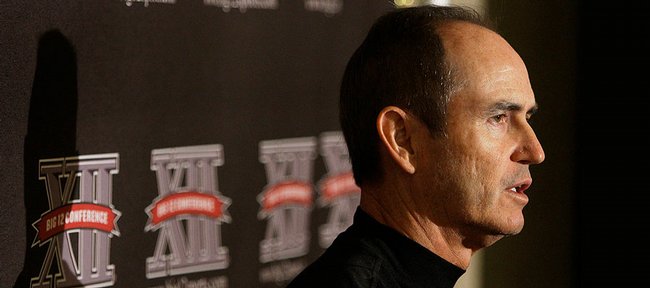 Kansas City, Mo. — Art Briles doesn't have to look far for proof Baylor really can turn around its football fortunes.
Briles, the Bears' first-year coach, inherits a team that has won a combined eight Big 12 Conference games in the past six years, hasn't won more than three league games in a season in the history of the conference and has four seasons without a Big 12 victory.
Briles' current challenge is not unlike the one that faced Mark Mangino, when in 2002 the current Kansas University coach inherited a Jayhawks team coming off a string of six straight losing seasons.
Under Mangino's direction, the team overcame a tough start and a losing culture to finish 12-1 and earn the school's first BCS bowl game trophy last year.
And in the aftermath of such success, teams like Baylor are pointing to the Jayhawks as proof that, under the right direction, significant turn-arounds are far from impossible.
"Look at Kansas," said Baylor defensive lineman Vincent Rhodes. "Who would have thought Kansas would do what they did last year - just busting out? You see that and you think, 'Why not us?'"
In the case of Baylor, it's a fair question.
But Briles has turned around programs before.
At the University of Houston, Briles turned one of the country's worst units into a perennial bowl-bound team. He led the Cougars to their first 10-win season in 16 years, and in 2006, when Houston won the Conference USA title just five years removed from an 0-11 season, it represented only the fifth time in the past 30 years that a Division I-A team has gone from winless to conference champion.
As head coach at Stephenville (Texas) High School from 1988-99, meanwhile, he took over a program that hadn't been to the state playoffs and proceeded to win four state championships in 12 years.
Cut from the same cloth?
Baylor's year-by-year record in the Big 12 Conference era:1996: 4-7 overall (1-7 Big 12)1997: 2-9 (1-7)1998: 2-9 (1-7)1999: 1-10 (0-8)2000: 2-9 (0-8)2001: 3-8 (0-8)2002: 3-9 (1-7)2003: 3-9 (1-7)2004: 3-8 (1-7)2005: 5-6 (2-6)2006: 4-8 (3-5)2007: 3-9 (0-8)2008: ? (*Briles first year)
Kansas' year-by-year record in the Big 12 Conference era:1996: 4-7 overall (2-6 Big 12)1997: 5-6 (3-5)1998: 4-7 (1-7)1999: 5-7 (3-5)2000: 4-7 (2-6)2001: 3-8 (1-7)2002: 2-10 (0-8) (*Mangino 1st yr.)2003: 6-7 (3-5)2004: 4-7 (2-6)2005: 7-5 (3-5)2006: 6-6 (3-5)2007: 12-1 (7-1)2008: ?
More like this story on KUsports.com