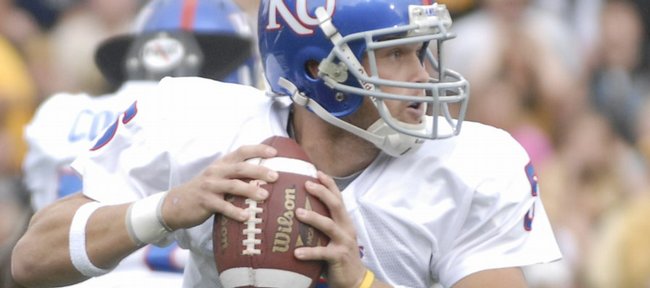 Three Kansas University football players will be made available Tuesday to answer questions at the Big 12 Conference's annual media day. In the meantime, here are 10 pressing questions already being asked by KU football fans counting the days until the Jayhawks open their season against Florida International on Aug. 30 in Memorial Stadium:
1: What does Todd Reesing have to do to make a legitimate run at the Heisman Trophy?
Just win, baby.
Last season, Reesing threw for 3,486 yards and 33 touchdowns and was intercepted just seven times while leading the Jayhawks to a 12-1 record, and the sophomore from Austin, Texas, still didn't get invited to the Heisman award show.
His stats, most likely, will be less impressive this season, when the Jayhawks face a tougher schedule and Reesing will be protected by less experienced blockers. But similar stats, along with a conference championship and return trip to a BCS bowl, might be enough to earn himself a trip to New York.
2: How much of a concern is it that KU couldn't run the ball in the spring game?
It's a concern, but a mild one. For one thing, the defense always has the advantage in the spring game because the defensive players are familiar with the line calls and tend to know what play is coming. Also, creative ways of blasting open rushing lanes aren't shown in spring games because to do so would be to run the risk of those blocking schemes winding up in the hands of one of the 12 enemies on the schedule.
But with both tackles, tight end Derek Fine and running back Brandon McAnderson gone, the rebuilding of the running game represents a challenge. Junior college recruit Jocques Crawford, provided he displays a Big 12 work ethic, has a chance to lead the team in rushing. After watching KU's failed attempts to run the ball at the spring game, Crawford said, "I really like my chances."
He showed up for summer conditioning, basically dropped his bags and ran a 4.6 40-yard dash. Not bad for a 220-pound back.
3: Just how much tougher is this season's schedule compared to last season's?
For comparison purposes, slice the schedule into three groups: Nonconference (four games), Big 12 North (five games) and Big 12 South (three games).
Nonconference: All four games last season were at home and none came against a foe as tough as South Florida. The nonconference season is one game tougher this year.
Big 12 North: Nebraska should be better under a new coach and the game will be played in Lincoln this year. So, figure this portion of the schedule to be about a half-game tougher.
Big 12 South: Look at it this way: Playing Texas and Texas Tech at home is tougher, however slightly, than facing Oklahoma State and Texas A&M; on the road. Facing Oklahoma on the road is far tougher than playing Baylor at home. Call this portion 1-1/2 games tougher.
In all, the schedule is three games tougher than last season, which translates to an 8-4 finish if the Jayhawks play as well this year as last.
4: What is the scariest game on the schedule?
Oklahoma isn't so much scary as incredibly tough. Same goes for Texas. And Missouri. And Texas Tech. The scariest game on Kansas' '08 schedule will take place Sept. 12 against South Florida in Tampa.
The Bulls are a rising national power and went 5-1 at home in '07, including victories over West Virginia, Louisville and Central Florida. They also return 17 starters from a team that, before a late-season collapse, ascended to No. 2 in the national polls.
Last season, the Jayhawks didn't lose their first game until the 12th game of the year. How might a Week 3 loss set the tone for the '08 season?
5: Until getting injured late in the season, left tackle Anthony Collins did a terrific job of protecting Todd Reesing's blind side. Now that Collins is in training camp with the Cincinnati Bengals, whose task will that become?
Jeff Spikes, a 6-foot-6, 312-pound redshirt freshman from Painesville, Ohio, could be counted on to serve as Reesing's body guard. Ranked as the seventh-best lineman in the state of Ohio by Rivals.com, Spikes also lettered in basketball and track. He averaged 12 points, 12 rebounds and five blocked shots for Harvey High, a strong indication that he moves his feet well.
6: What player-on-player matchup, if it goes as well for KU as the Cole Aldrich-Tyler Hansbrough one did, could mean the Jayhawks are in for a banner season?
South Florida defensive end George Selvie, an All-American, led the nation in tackles for loss (31.5) and finished second in the nation with 14.5 sacks. If Spikes, in just the third game of his college career, can keep Selvie off of Reesing's back, that would bode well for the chances of a second consecutive BCS bowl bid.
7: Who could become this year's Chris Harris?
Last year, the true freshman defensive back came out of nowhere to earn freshman all-American honors after totaling 65 tackles (sixth on team) and two interceptions. Kansas didn't have any reason to count on such an immediate contribution. Based on whispers about his improved play during the spring, Maxwell Onyegbule could be the player who surprises this season. He might even call to mind Brandon Perkins from the 2005 season, harassing quarterbacks on third down.
8: Might Kerry Meier return punts this season?
There is about as much chance of that happening as there is of Mark Mangino leaving the team to become Pope. Meier will remain the backup quarterback and work as a first-team receiver. His sure hands and good speed make him well-suited for the job but it also would spread him thin in practice and expose him to injury.
9: Is there anyone on the roster capable of turning punt returning from a weakness into a strength?
Daymond Patterson, a 5-foot-9, 175-pound freshman out of Mesquite, Texas, averaged 21.6 yards per punt return as a senior. He'll be given a shot at winning the job. An amazing athlete, Patterson set school records in the triple jump and as a member of the 4X200 relay team.
10: Can this season's Border War matchup live up to the hype of last year's version?
Absolutely, positively, no-question-about-it: No. Remember, Kansas was No. 2 and Missouri No. 3. That won't happen again, but it will mean just as much to players and fans from both sides of college football's oldest rivalry west of the Mississippi.
More like this story on KUsports.com