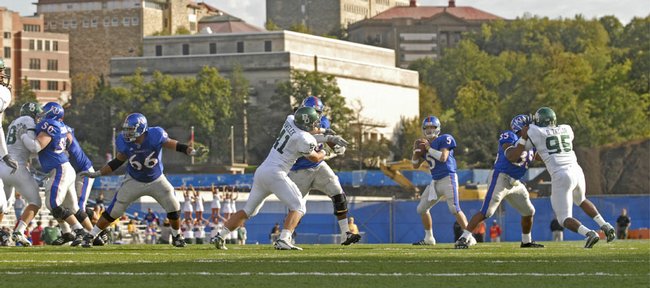 If there was a black mark on the Kansas University football team's stunning 12-1, Orange Bowl-champion 2007 season, it was the incessant question surrounding the team's strength of schedule.
Or, more precisely, its lack of it.
Despite leading his team to its best season in modern history (and picking up nearly every coach of the year award along the way), Jayhawks coach Mark Mangino was forced to defend against rumblings that Kansas lacked victories against quality opponents -rumblings that, from an objective standpoint, weren't altogether unreasonable.
In eight conference contests last fall, only once did the Jayhawks find themselves lined up against a team that finished the season in the Top 25 - and that game ended in a 36-28 loss to rival Missouri.
That won't be the case this year.
In a scheduling break a season ago, Kansas managed to avoid the top three teams in the Big 12 South - Oklahoma, Texas and Texas Tech - and as a result will match up against all three this year. In addition, the Jayhawks will take on conference wildcards Colorado (at home) and Nebraska (on the road), with the annual Border Showdown against preseason Big 12 North favorite Missouri slated for the final week of the regular season.
"On paper, it definitely appears (tougher)," said Jon Kirby, a recruiting analyst for Rivals.com. "Especially with the Big 12 media rankings that just came out, as well as some of the preseason polls."
According to preseason consensus rankings compiled by the Journal-World, which took into account six preseason publications, the Jayhawks are set to face the No. 3 (Oklahoma), No. 6 (Missouri), No. 11 (Texas), No. 14 (Texas Tech) and No. 17 (South Florida) teams in the country.
And while preseason polls tend to be far from clairvoyant (Kansas was a fourth-and-20 from a Top 25 mention in most polls before last season), they can also provide an adequate measuring stick.
The bad news for Mangino, who signed a contract extension Tuesday that makes him the 13th-highest-paid coach nationally (third in the Big 12)? This year's schedule is shaping up to be the Jayhawks' toughest in at least the past five years.
The good news? Nobody should be questioning his team's strength of schedule in '08.
KU schedule rankings
A look at what various preseason publications ranked the Kansas University football team and its opponents heading into the 2008 season.
KANSAS JAYHAWKS
Phil Steele: 30
Sporting News: 12
Lindy's: 15
Athlon: 13
ESPN.com: 17
Scout.com: 13
COMPOSITE: 17
OKLAHOMA SOONERS
Phil Steele: 3
Sporting News: 4
Lindy's: 4
Athlon Sports: 3
ESPN.com: 3
Scout.com: 3
COMPOSITE: 3
MISSOURI TIGERS
Phil Steele: 7
Sporting News: 6
Lindy's: 5
Athlon Sports: 6
ESPN.com: 6
Scout.com: 8
COMPOSITE: 6
TEXAS LONGHORNS
Phil Steele: 15
Sporting News: 11
Lindy's: 8
Athlon Sports: 11
ESPN.com: 8
Scout.com: 15
COMPOSITE: 11
TEXAS TECH RED RAIDERS
Phil Steele: 11
Sporting News: 20
Lindy's: 16
Athlon Sports: 18
ESPN.com: 11
Scout.com: 10
COMPOSITE: 14
SOUTH FLORIDA BULLS
Phil Steele: 8
Sporting News: 21
Lindy's: 19
Athlon Sports: 20
ESPN.com: N/R
Scout.com: N/R
COMPOSITE: 17*
* based on average of top four rankings