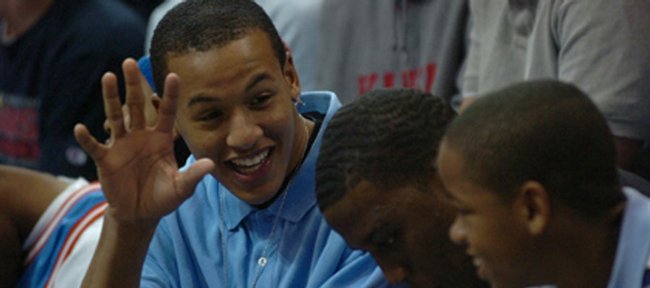 Awarded a spot in the starting lineup on USA Basketball's Under 18 National Team, Travis Releford didn't disappoint in the opening game of the FIBA U18 championships Monday in Argentina.
Releford, Kansas University's 6-foot-5 freshman combo guard out of Roeland Park Bishop Miege, scored eight points off 4-of-5 shooting and grabbed five rebounds in the United States' 82-73 victory over Venezuela.
Releford, who had three assists against one turnover in 26 minutes, impressed U.S. head coach Bob McKillop of Davidson.
"Travis Releford did everything. (He) rebounded, ran the court, defended, got loose balls, made shots inside and was extremely, extremely effective and efficient in running our offense," McKillop said.
The U.S., which trailed, 23-22, after one quarter, led, 47-36, by halftime.
"I kind of expected it because I've played overseas before," Releford said of the opener being close. "Every team we play is always going to come out ready to compete because we're the USA team, and we're still called the best team in the world. So every time we step out we have to be ready to play because the other teams are going to come after us."
McKillop deemed Releford's performance "sensational," especially on defense.
"Coach told us that if we kept pushing it eventually they were going to wear out, get tired, and that's what we did to retake the lead," Releford said.
Venezuela outscored the U.S., 21-16, in the final quarter.
"Every team is going to have that run. It's just a matter of how a team can control it, how they can handle it. I think we handled their run really well," Releford said.
Travis Wear scored 15 points and grabbed seven rebounds, while Ryan Kelly and Kemba Walker had 12 points apiece for the United States, which will play its second game of the tourney today against Bahamas.
The FIBA (Federation Internationale de Basketball Amateur) tournament features eight U18 national teams from North, South and Central America and the Caribbean. Top four teams will qualify for the 2009 FIBA U19 World Championship, July 2-12, in New Zealand. Following preliminary-round play, the top two teams in each group advance to Thursday's medal-round semifinals. The gold-medal game will be Friday night.
More like this story on KUsports.com