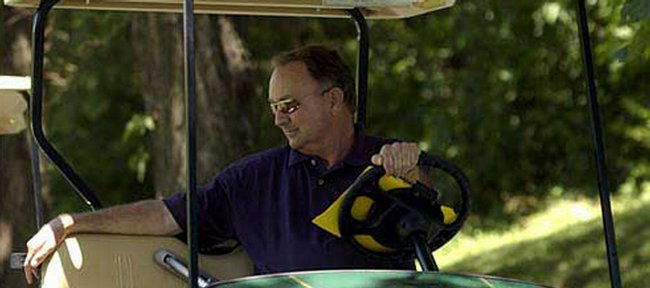 Sure, wins and losses fill the top line of any college coach's resume, but the list of qualifications can't stop there.
For example, never doing anything to embarrass the university comes with the job description. Comport yourself in public with class, dignity and a constant awareness that what you do affects not just your own reputation, but that of the athletic department and the entire university.
Which brings us to the Kansas University men's golf coach.
Check that, Ross Randall has a new title these days. He is director of golf, overseeing both the men's and women's golf programs, running the Jayhawk Golf Camp in the summer and taking an active role in fundraising for a new practice facility that will enable golfers to practice on even the most bitter winter days.
For 28 years, Randall enhanced the reputation of the golf program and university he represented. He's the sort of gentleman who, if he plays your public course or country club, you want him to come back and play it again and again. He's welcome everywhere.
Sure, Randall won a lot, including the conference championship title in 1999 when Kansas became the only school outside the state of Oklahoma to win it since 1985. He coached five All-Americans. He won various coach-of-the-year honors. More important, he won respect by the way he conducted himself.
Randall's the perfect model for any young coach to study.
KU athletic director Lew Perkins has ruffled feathers in town, but he also quietly has done a few nice, classy things for which he neither has sought nor received credit. One such act was retaining Randall when he grew tired of all the travel required of a head golf coach.
Randall earned such treatment, but Perkins still deserves credit for granting it.
Contrary to fears he would be a "ready, aim, fire" type of AD, Perkins also has been known during his career to give less deserving coaches a break. But those who know Perkins well know that if a coach conducts himself with less than the sort of class Randall always has shown, it's not three strikes and you're out, it's just two, and man oh man, does that zone ever shrink for strike 2.
¢ Nineteenth-hole chatter: As a rule, surgeons have great hands, which is why they tend to do so well with wedges. Looking to win a match against Doc Myrick, Darrell Arthur's parade chauffeur? Suggestion: Get into his bag when he's not looking and bend his wedge. : Here's guessing Randall would have been a great surgeon. : Other career generalizations translated to the golf course: Dentists, especially those short in the tooth, tend to really drill the ball off the tee. Coaches tend to win. Sports writers and cab drivers? Hacks.
Gender generalization: Men tend not to let faster-paced women play through. Come on guys, speed it up or swallow that pride and let them through.
¢ Aside from the speech given by Special Olympian Lisa Young of Baldwin High, the highlight of the Lew Perkins Golf Tournament for the benefit of Douglas County Special Olympics came at the end of the evening, when two Final Four basketballs signed by the members of the national champions were auctioned off. It started as an auction for one basketball, but once the bids reached astronomical heights, the auctioneer informed that both bidders could receive a basketball. So local realtor Sean Williams and Wichita business mogul Jamie Coulter each went home with a singed basketball. The price? Sit down, have a cold drink of water at the ready, and then we'll share that. Would you believe each man parted with $22,500 for the cause? True story. : Finally, some bar nightlife at a Lawrence golf course. Alvamar Country Club's new 19th hole has been a big hit, and word is the finances, in dire straits a year ago, have taken a turn for the better. : Eagle Bend's decision to turn back the prices to Opening Day to celebrate its 10th birthday was a huge success, based on the steady flow of traffic that day. : Pre-renovations, unfair greens were a common complaint at Lawrence Country Club. Not any longer. The greens, still not easy, are running true and fair, rewarding strong putters armed with local knowledge.
¢ Intriguing groups to watch in the LAGA Big Event, aka the city championship, Saturday at Alvamar Public and Sunday at Eagle Bend: Chris Hutchens, Spencer Scott and Scott Buxton; women's favorite Carol Rau and defending champ Sidney Garrett are in the foursome that kicks off the event at 7 a.m. Saturday.
More like this story on KUsports.com