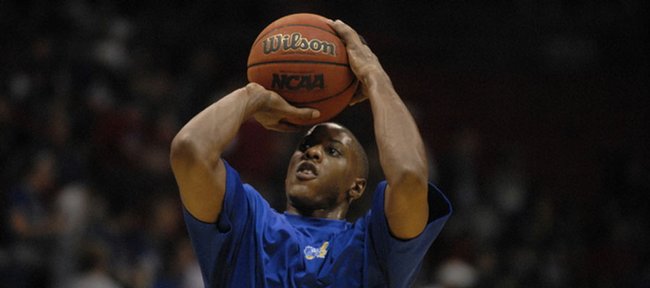 Apparently the Miami Heat liked what they've seen out of Mario Chalmers so far.
The Heat signed Chalmers - one of the heroes of Kansas University's 2008 national-championship team - to a three-year contract worth around $2.3 million, according to published reports.
Chalmers was a second-round pick by the Minnesota Timberwolves in last month's NBA Draft.
The Heat traded the Timberwolves two future second-round picks and $2 million for Chalmers.
Chalmers was eligible to receive as little as the rookie minimum of $442,114 for one season.
But the Heat locked him up instead.
The deal includes two guaranteed seasons, with the first starting around $700,000 and the third year at the Heat's option, the Orlando Sun-Sentinel reported Wednesday.
"It's an extremely generous deal," agent Sam Goldfeder told the newspaper.
The Sun-Sentinel reported that Chalmers impressed the Heat with his play at last week's summer camp and at this week's Orlando Pro Summer League.
Darnell Jackson, a second-round pick from the Jayhawks who will play for Cleveland's summer league team, likely will sign a two-year contract with the Cavs worth $1,178,534, the Lorain (Ohio) News-Herald reports.
Jackson likely will earn the NBA minimum of $442,114 in 2008-09 and $736,420 in 2009-10. In the past, the Cavs have guaranteed both years of the contract.
In all, five KU players were drafted.
More like this story on KUsports.com