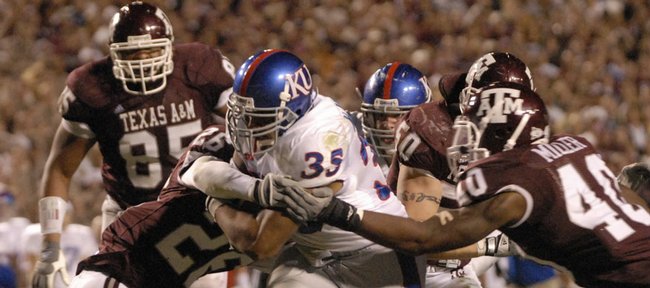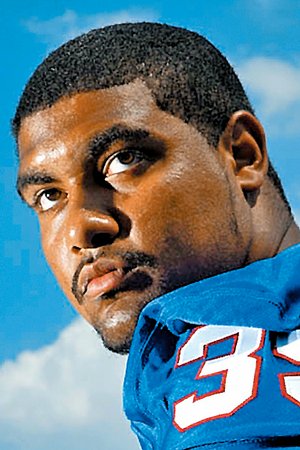 Post-graduate life has not been overly kind to Brandon McAnderson.
Since piecing together a senior season in which he compiled 1,125 rushing yards and 16 touchdowns for the Orange Bowl-champion Jayhawks, the former Kansas University running back and Lawrence High product has experienced a collection of bumps, bruises, disappointments and near-misses in his quest to make an NFL roster.
"It's been interesting," said McAnderson during a phone interview last week. "It's not exactly what I expected. But it's diversity, and it's life."
His journey began last April, when he watched as team after team passed him by in the 2008 NFL Draft. A bruising rusher who had displayed a knack for finding the end zone during his career as a Jayhawk, McAnderson had hoped to be one of the 252 players selected. He wasn't. But within an hour after the draft officially ended, he had agreed to a free-agent deal with the St. Louis Rams.
So he packed his bags, shaking off the disappointment of going undrafted, and set his sights on beginning his NFL career.
From the start, McAnderson encountered obstacles. Playing with an injured ankle - sustained while working out following the 2007 season - B-Mac found himself severely limited and struggled to stay afloat against some of the best athletes in the country.
Eventually, he was released from the team in May.
He returned to Lawrence with a shattered psyche.
His motivation plummeted, and as a result, his weight did the opposite. For the first time in his career, he began seriously to question his abilities - and he braced for the possibility that his football career might've run its course.
"I'm not one to get down on myself," says McAnderson, who before this year had never dealt with a significant injury. "But I wondered, you know, is it the injury or is it me?"
Then, last month, the Oakland Raiders called and offered him the chance to work out for them. There was no guarantee of a contract, but it was another chance. He did his best to work back into football shape, and in mid-June, he and a couple other running back prospects were put through a collection of drills in California.
This time around, things couldn't have gone much better. McAnderson moved well, ran well, caught well. He made plays, by his estimation, that his competitors didn't. Though not 100-percent, the ankle held up nicely, and for the first time in months, McAnderson felt like himself again.
"I got back to playing like me," he said.
After the workout, a Raiders representative met with him in the locker room. He told McAnderson that the team liked his abilities and his feet and what he brought to the table.
Then he said the team would be going in another direction.
McAnderson returned from Oakland and made a decision: It was time to get practical. With a new wife, Alejandra, to whom he was married two weeks ago in Lawrence, he now has a family to support. He is in the process of searching for a 9-to-5 job - "to put this four-and-a-half-year degree to use."
He has a lead on a position as a salesman for a life insurance company run by the friend of a relative. It has potential, he says, and the company has a reputation for taking on recent college graduates.
"At this point, I've got to try to support myself and my wife," McAnderson said. "I've got to go back to being a regular person, just like everyone else. Trying to earn a living."
Funny thing, though. Since returning from Oakland last month, there's this thought that he hasn't been able to push out of his mind. It's there in the mornings, when he wakes up, and at night, too. Tugging at him.
He believes he was the best player on the field that day in Oakland. Knows it in his heart.
Which is why, each morning, he wakes up, throws on some workout clothes, and goes running - usually with his father, Ramon, yelling in his ear. It's why he spends his afternoons working out at Lawrence High School - the place where his NFL ambitions began to form as a local prep star - and at Kansas University - where they began to blossom.
"It's the thought that this is something I've earned; this is something I want," he said of another chance to make an NFL roster. "I believe I can play at a high level. And I love the game.
"So if (an) opportunity comes - it could be tomorrow, it could be November, it could be next spring - you've got to be ready," he adds. "And I want to be ready."
More like this story on KUsports.com