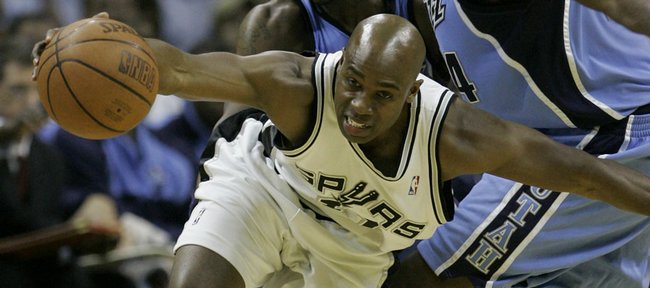 Former Kansas University point guard Jacque Vaughn on Tuesday exercised his contract option with the San Antonio Spurs, meaning he will be under contract with the team through the 2008-09 season.
Vaughn, 33, is in the final year of a deal that pays him about $2.5 million total. He has been with the Spurs the past two seasons - including the 2006-07 championship season - serving as backup to Tony Parker.
The 11-year veteran has career averages of 4.6 points and 2.5 assists per game.
The Associated Press also reported Tuesday that Spurs guard Brent Barry opted out of his contract and became a free agent.
¢
Former KU guard Mario Chalmers, ex-Kansas State forward Michael Beasley and former KU and Louisville center David Padgett will play for the Miami Heat's summer-league team July 7-11 in Orlando, Fla.
Other teams at the summer league: Orlando, Chicago, New Jersey, Indiana and Seattle.
It remains to be seen whether Brandon Rush will be able to play summer-league games with the Indiana Pacers. On draft night, the Pacers and Portland agreed to swap draft picks Rush and Jerryd Bayless. Also, Ike Diogu was sent to the Blazers and Jarrett Jack and Josh McRoberts to Indiana.
Because of the timing of that trade and the involvement of veteran players, that deal reportedly must wait until July 9 to become official, midway through summer league.
The Indianapolis News reports Rush cannot compete at a Pacers' minicamp this weekend because of the NBA's July 9 edict.
¢Several former KU players will be competing at the Las Vegas summer league July 11-20 in Glitter City.
The unofficial list includes: Darrell Arthur (Memphis), Darnell Jackson, Wayne Simien (Cleveland), Keith Langford (Denver), Aaron Miles (Dallas), Russell Robinson (Houston) and Julian Wright (New Orleans).
More like this story on KUsports.com