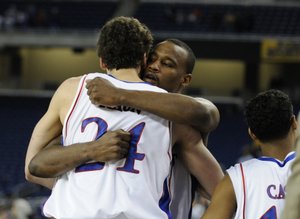 Big 12 Spotlight
After all 60 NBA Draft selections were made and the league approved a plethora of trades that would leave Albert Einstein perplexed, here's a few images basketball fans can start formulating in their minds:
Mario Chalmers passing to Michael Beasley; Brandon Rush dishing to brother Kareem; D.J. Augustin setting up Jason Richardson and Emeka Okafor for high-percentage looks. How about a five-man unit in Boston that consists of Paul Pierce, Kevin Garnett, Ray Allen, Bill Walker and J.R. Giddens? That won't be the starting lineup, but, oh, the possibilities.
The Big 12 Conference had 10 players selected in last week's NBA Draft in New York. That number was second only to the Pacific-10, which had 12 of its players taken.
Some Big 12 players should make immediate impact with their professional clubs. Others will struggle to make the roster. Here's what to expect from the Big 12's big 10:
Michael Beasley, K-State
Draft position: No. 2 overall, Miami.
Competition: Udonis Haslem.
Final word: Beasley should receive the opportunity to start over Haslem. If Miami brought Haslem's 12 points and nine boards off the bench, that'd be a luxury. The Heat could form one of the most exciting trios in basketball with Dwyane Wade, Shawn Marion and Beasley. The last two names of the trio could form one of the best rebounding duos in the league.
D.J. Augustin, Texas
Draft position: No. 9 overall, Charlotte.
Competition: Raymond Felton.
Final word: Bobcats general manager Rod Higgins insisted Felton would retain his starting point-guard position in Charlotte. Augustin likely will begin his career as a backup point guard, but Felton is entering the final year of his contract. Year No. 1 for the former Longhorn will be crucial.
Brandon Rush, Kansas
Draft position: No. 13 overall, Indiana.
Competition: Danny Granger, Mike Dunleavy, Kareem Rush, Ronald Murray.
Final word: Imagine battling your brother for playing time. Pacers practice should be anything but boring. Brandon may not start immediately, but he should be second off the bench, at worst.
Darrell Arthur, Kansas
Draft position: No. 27 overall, Memphis.
Competition: Hakim Warrick, Antoine Walker, Darko Milicic, Kwame Brown.
Final word: Arthur should be a starting forward in Memphis, alongside Warrick. Walker has a $9.3 million expiring contract and hasn't averaged double figures in three years. And Milicic is already entering his sixth year. The superstar tag is nonexistent on the former No. 2 overall pick, who was taken ahead of the likes of Carmelo Anthony, Wade and Chris Bosh.
Mario Chalmers, Kansas
Draft position: No. 34 overall, Miami.
Competition: Jason Williams, Marcus Banks.
Final word: Chalmers could start over Williams by the start of the season. He enters a situation similar to Rajon Rondo with Boston. Granted, Miami doesn't have expectations to win an NBA title next year, but Chalmers could be the primary distributor to the power trio of Wade, Marion and Beasley, much like Rondo sets up Pierce, Garnett and Allen.
DeAndre Jordan, Texas A&M;
Draft position: No. 35 overall, Los Angeles Clippers.
Competition: Chris Kaman, Elton Brand, Paul Davis, Nick Fazekas.
Final word: The Clippers didn't risk much by taking Jordan, whose ceiling is compared to Dwight Howard's, in the second round. He's fundamentally poor, though, at present. Jordan must improve his foul shooting and footwork in the paint.
Bill Walker, K-State
Draft position: No. 47, Boston.
Competition: James Posey, Leon Powe.
Final word: Posey and Powe were crucial in the Celtics' championship run, so it's going to be tough for Walker to earn more minutes than the duo. He's likely a more talented player than both, though.
Darnell Jackson, Kansas
Draft position: No. 52, Cleveland.
Competition: Ben Wallace, Joe Smith, Anderson Varejao, Sasha Kaun, J.J. Hickson.
Final word: With Kaun playing in Russia, Joe Smith aging and Wallace continuing to be an offensive liability, Jackson has a legitimate shot to average around 15 minutes a game his rookie year.
Mike Taylor, Iowa State
Draft position: No. 55, Los Angeles Clippers.
Competition: Eric Gordon, Corey Maggette, Cuttino Mobley.
Final word: Taylor is a long-shot for major minutes.
Sasha Kaun, Kansas
Draft position: No. 56, Cleveland.
Competition: Same as Jackson.
Final word: Kaun signed a three-year contract with CSKA Moscow in his native Russia, so the Cavs will treat the former Jayhawk as a project.
More like this story on KUsports.com