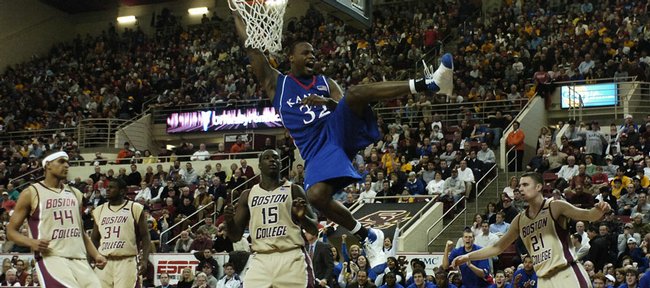 Go figure
3
Jayhawks in double figures scoring in the first half
3
Eagles scoring in the first half
47
Points from KU starting forwards Darrell Arthur and Darnell Jackson
6
Points from BC starting forwards Tyler Roche and Shamari Spears
22:10
Kansas' assist-to-turnover ratio
14:14
Boston College's assist-to-turnover ratio
18, 2
First-half, second-half points by BC's Tyrese Rice
37-3
KU's combined record in men's and women's basketball and football
Boston — Darnell Jackson stood outside a tunnel of Conte Forum, desperately trying to compose himself before returning to the court at halftime of Saturday's Kansas University-Boston College game.
Jackson, the Jayhawks' 6-foot-8, 250-pound senior forward, sobbed after exploding for 15 points and six rebounds and helping KU to a 47-29 lead en route to an 85-60 blowout victory.
"My grandmother : I can't stop thinking about her," Jackson said, reflecting on the halftime tears - and embrace with teammate Mario Chalmers - after finishing with a career-high 25 points with nine rebounds and two steals.
"I was hugging Mario because I can't stop thinking about her. I was crying. Mario said, 'Do it for her.' It's what I did,'' added Jackson, whose grandmother, Evon, died following complications from a car accident caused by a drunken driver on May 29, 2005.
Chalmers quickly came to the aid of Jackson, who also broke down at last season's Florida game in Las Vegas, site of the car crash.
"Me and D-Block have been through a lot, both of our grandmothers died," Chalmers said. "For me, it's easy (to deal with it). For Darnell : it's hard for him. You could tell he was upset at halftime. His grandmother was his best friend. I stood there and gave him a friendly hug. I told him, 'Everything we do this season is dedicated to your grandmother.'''
Jackson hit six of eight shots the first half and three of four free throws. He scored eight points, while Chalmers had six and Brandon Rush five in a back-breaking 23-4 run that opened a 45-26 lead with 1:21 left before halftime.
Following the emotional halftime, Jackson scored 10 points off 3-of-5 shooting and 4-of-4 free throwing.
His 25 points passed his previous career high of 21 set in this year's season opener against Louisiana-Monroe.
"It could have been five. It could have been zero. I don't care how many points or rebounds I get, just that we win," Jackson said.
Jackson stressed that he's having a blast this season, but thoughts of his love for his grandma strike him periodically.
KU coach Bill Self says the sky is the limit for Jackson, who has hit the 20-point mark in KU's last two games.
"We've raised his ceiling from where we thought it probably was to where he's playing now," Self said. "He's playing at a high level."
KU's big men were quite effective against BC (10-3). Darrell Arthur had a season-high 22 points with seven rebounds, while Sasha Kaun hit four of six free throws and two of three shots, good for eight points and five rebounds.
"Normally, we're a guard-led team. Today our bigs led us," Self said after Kansas improved to 14-0.
His team did show growth in one area Saturday. KU, which claimed narrow victories over USC (four points) and Georgia Tech (five) in its previous road games, was able to show killer instinct this time.
After seeing its game-high lead of 25 points (55-30) dip to 14 (63-49 with 9:55 left, KU went on an 8-0 run and led 71-49 at 8:31.
KU rebuilt the lead back to 25 at 76-51 and won in non-nailbiting fashion this time.
"I don't know if wake-up is the right call," said Self, asked if an on-court yelling match between KU's Chalmers and BC's Rakim Sanders - which preceded the 8-0 surge- snapped the Jayhawks out of their lethargy.
"We went brain-dead on several possessions," Self said. "Even though it wasn't in doubt, it was good to go through that. We didn't finish either road game before this very well. Today it didn't come down to that."
The Jayhawks had three double-digit scorers: Jackson and Arthur, plus Brandon Rush, who had 12 points. BC was led by guard Sanders, who had 21 points. Tyrese Rice, who scored 18 the first half, finished with 20.
KU will next meet Loyola of Maryland at 7 p.m. Tuesday at Allen Fieldhouse.
More like this story on KUsports.com