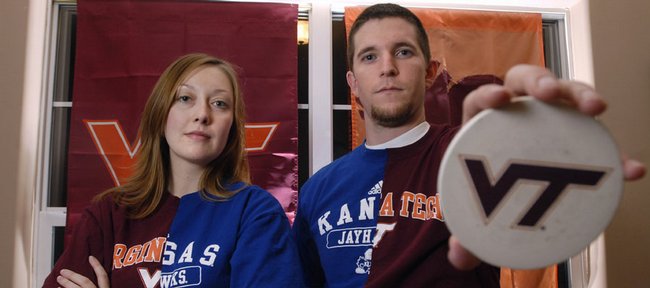 Not all Lawrencians will be donning crimson and blue for Thursday's Orange Bowl.
There are some Virginia Tech Hokies in town.
Steve and Ashley Strand are two local Hokies who bleed maroon and orange, even though Steve is a native Kansan.
"I figured we were going to play either KU or Mizzou," Steve Strand said. "I was a little hesitant at first because I didn't want to root against KU because I love KU, but I've got to go with the alma mater."
Justin Smit, a 2003 VT graduate, moved to Lawrence for a job and even got caught up in the fervor of KU football.
"It was neat to see where the enthusiasm grew through the year," Smit said. "You expect to see that during basketball season, but it was real neat to see the town, especially in October and November, come to life because of the KU football team."
And some live in a house divided.
Tristan Moody and Krista Miller both graduated from KU, but Miller called Virginia Tech home for two years. She tries to keep her loyalty to each school in check.
"If I wear my KU Crocs, I'll wear a Hokie Bird shirt. I always try to balance between them so no one thinks I'm more partial to one than the other," she said.
Moody and Miller both sport each team's colors, and they see a Jayhawk Hokie showdown as a win-win.
"We're going to be cheering for the birds either way," said Moody.
The local Hokies think that KU players are lucky they don't have to play in Lane Stadium, VT's home turf.
"Our stadium is known to be one of the loudest and scariest : because it's so tall and so loud," Ashley Strand said. "Everybody in the stadium is just so excited to root our guys on."
Miller agrees.
"I've never been to any other college football game, not even here, that has that kind of atmosphere," she said. "I don't know if there's a word to describe it."
Smit even followed the Hokies to other bowls they've played in.
"I went to the national title game in 1999, been to two Gator Bowls and last year's Peach Bowl," he said.
The Jayhawks might have a lot to prove in this game, but Smit thinks there's also a lot for the Hokies to live up to.
"This has been our most successful senior class in history, and this is going to be our first team that finishes with a 12-win season, so there's a lot on the line," he said.
And even though Steve Strand grew up in Kansas and had two siblings go to KU, he can't go against his alma mater. Plus, the Strands have an entire room dedicated to Virginia Tech memorabilia.
"I'm a lifelong KU basketball fan, but when it comes to football, I've got to go with the Hokies," he said.
And living in enemy territory, even though it's just until the Orange Bowl, isn't as bad as it sounds.
"The KU fans have been real nice," Smit said. "I haven't gotten too much grief in town here at the office."
"I think it's going to be a good game, and everybody is going to be just cheering on their teams," said Ashley Strand. "Go Hokies!"
More like this story on KUsports.com