Feature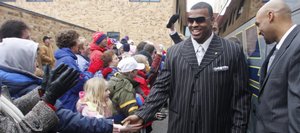 Journal-World KU reporter Jonathan Kealing is covering the fans in and on their way to Miami for the Jayhawks' first ever BCS bowl game. Check out some pitstops and potholes on the way to Miami and keep up with Journal-World Orange Bowl coverage from Miami on our interactive road trip map.
Weighing options
Virginia Tech standout cornerback Brandon Flowers is from nearby Delray Beach, Fla., meaning that Thursday's Orange Bowl at Dolphin Stadium will be a great chance for family to see him play.
"I need, like, 60 tickets," Flowers said. "I haven't got near as many as I need. Hopefully a couple of guys have extra tickets."
It could be the final chance to see Flowers play in college.
Flowers, a junior, submitted paperwork to the NFL Advisory Committee and is considering going pro. The committee told him he's projected to go in the second round, and now decision time is coming - after Thursday's game, of course.
"I don't know," Flowers said. "Whatever decision I make, I'll be more than happy with it."
More NFL talk
A couple of Jayhawks, like Aqib Talib and Anthony Collins, have NFL careers waiting for them when they're ready.
Others will be in a fight for one after Thursday's Orange Bowl.
One is Brandon McAnderson, KU's 6-foot, 235-pound running back out of Lawrence High. He plans to train this spring for a professional career and will hope for a chance.
"I'll do anything," McAnderson said. "I'll play ball, I'll kick the ball, I'll hold the ball for the kicker. Just to play ball as long as you can - that's a dream."
That's tall
KU offensive coordinator Ed Warinner was asked how tall height-challenged quarterback Todd Reesing really is.
"Tall enough to get us to a BCS bowl," Warinner quipped.
Grounded
With the Orange Bowl just days away, KU players didn't spend New Year's Eve getting wild in South Beach.
"Twelve o'clock, we've got to be at the hotel," right tackle Cesar Rodriguez said earlier Monday. "We're staying in the hotel room and celebrating."
No snake wrangler
Reesing has been a popular subject with Virginia and Florida reporters. Thumbing through the KU media guide, Reesing's bio says he enjoys snake wrangling, among other hobbies.
When roommate Derek Fine, KU's starting tight end, was asked about it, he let out a chuckle and then told a much different story on Reesing.
A mouse was on the loose in Reesing's house recently. Instead of going after it like a snake wrangler would, Reesing jumped up on a futon to get away from it.
"He's not a snake wrangler," Fine quipped.
Reesing gave his side of the story just a few feet away, but Fine wasn't hearing it.
"Whatever, dude," he said with a smile. "He's a sissy."
More like this story on KUsports.com