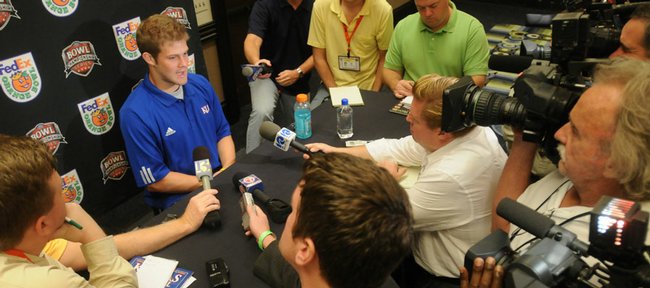 Fort Lauderdale, Fla. — It sounded like a cliche six months ago, the kind of quote you've heard before.
Ed Warinner sat behind the desk in his second-floor office over the summer, trying to explain Kansas University's new offensive approach on the football field without giving away too many secrets.
More than anything, KU's first-year offensive coordinator stressed his desire to do what seems so obvious: Get the ball to the playmakers and let them make plays.
"Versatility," Warinner preached, "is key."
Now, days before the Orange Bowl against Virginia Tech, the Jayhawks proved able to follow through brilliantly on that creed all season long.
Using a vast arsenal of playmakers at every position on offense, Kansas averaged 491.1 yards per game and scored 44.3 points per contest. Both marks will shatter school records no matter happens Thursday when Kansas faces Virginia Tech at Dolphin Stadium.
There are the obvious, well documented reasons for KU's offensive surge. Two in particular stand out:
¢ Warinner and head coach Mark Mangino decided to give KU's offensive scheme a makeover after the 2006 season. The play-calling seems to fit the personnel like a glove.
¢ KU sophomore Todd Reesing has been remarkable in his first season as the starting quarterback. He passed for 3,259 yards in the regular season with 32 touchdowns and six interceptions. More importantly, he was a leader the rest of the team believed in.
A gritty quarterback and a cutting-edge scheme are a great start. But the number of minor developments that proved beneficial to KU's offensive efficiency was staggering.
Here's a look at a few of them:
Offensive line
There's the All-American. The veteran. The walk-on. The junior-college transfer. And the guy who won back a starting job after a year on the bench.
Calling them misfits would be inaccurate. But to call them perfect fits, on the surface, might be inaccurate, too.
The fact is, KU's offensive line really came through this season. With All-American left tackle Anthony Collins protecting the blind side and veteran Cesar Rodriguez at right tackle, the Jayhawks had a strong border on its offensive line.
Ryan Cantrell, after starting at guard in 2005, moved into the center position seamlessly. Chet Hartley started right away after playing at Butler Community College last year, and walk-on Adrian Mayes clawed his way to the starting job at left guard.
What came of it was communication, teamwork and toughness in the trenches that has allowed the skill players to put up remarkable numbers.
"We're not the most physically gifted guys," Rodriguez said. "We're not the biggest, we're not the strongest. But if we work harder than anybody, we'll get the job done."
Kerry Meier
Labeled "The Golden Boy" after his ballyhooed arrival on campus two years ago, sophomore Kerry Meier was rocked by the realization that he was beat out for the starting quarterback job by Reesing in August.
Seeing a gifted, 6-foot-3, 220-pound athlete in Meier on the sideline with a baseball cap on, KU's coaches brainstormed how to get him on the field while keeping him as the backup quarterback.
The answer? A part-time wide receiver. Meier accepted the unorthodox role and has flourished, catching 24 passes for 250 yards and two touchdowns. He became the first Jayhawk to throw a touchdown, rush for a touchdown and catch a touchdown pass in the same season since Garfield Taylor 26 years ago.
More than that, though, Meier's willingness to step out of his comfort zone for the sake of the team is what resonates most with those in the program.
"That was probably one of the most amazing things about the season," Warinner said. "That's probably why we're here. Just the fact that that selfless attitude permeated throughout our team."
Brandon McAnderson
When Jon Cornish graduated after rushing for 1,457 yards in 2006, the widespread wonder was whether Jake Sharp would be able to fill the role adequately.
Sharp has been fine, having rushed for 788 yards on 138 carries. But it's the work of Brandon McAnderson that has given the Jayhawks the balance they deeply crave.
McAnderson will get caught from behind if he breaks free. He won't make three guys miss between the tackles. He's not quite big enough to be a Jorvorskie Lane-type bowling ball that gets the automatic tough yard.
But McAnderson does everything well while doing nothing special. With the passing game always on the opposition's mind, McAnderson rumbled for 1,050 yards on 175 carries (a 6.0 average) with 16 touchdowns. That included a 183-yard effort in a tight game at Texas A&M; that helped Kansas improve to 8-0.
Cornish long will be loved by KU fans for being a bright spot on a disappointing 2006 season. But thanks to McAnderson, Cornish hasn't been missed.
Marcus Henry
He was the 6-foot-4, rangy, long-armed guy who was more potential than production for three seasons.
But senior wide receiver Marcus Henry finally has become the star that was buried somewhere inside him for so long.
Using his improved hands and breakaway speed, Henry has caught 52 passes for 994 yards and nine touchdowns for the Jayhawks. In his first three seasons at KU, he had 50 catches for 585 yards TOTAL.
"I think our quarterback has a great deal of confidence in him," Warinner said. "And he has a lot of confidence in himself right now."
Henry doesn't look the part, but he has serious speed. That speed has led to several long touchdowns, and it has stretched the field so much that the other 10 offensive players are benefiting from Henry simply being out there.
"He is a complete package in terms of development in all phases at wide receiver," Warinner said. ": As coaches, we have confidence. So we try to dial him up as much as we can."
Discipline
KU's coaching staff calls it "margin of error," and it includes sacks allowed, turnovers, dropped passes and penalties.
The key is keeping the boo-boos low, because, as Warinner put it, "We understand our margin of error is small."
The Jayhawks have mastered the game of discipline this season. The offensive punch has combined with sound minds, and Kansas actually has more touchdowns (64) than penalties (48) this season (to compare, Virginia Tech has 37 touchdowns and 88 penalties).
Warinner credits overall team discipline and says the tempo in practice has a lot to do with it.
He also gives credit to Reesing.
"I think your quarterback and the rhythm he has controlling the game and so forth really keeps everybody in sync," Warinner said.
With everybody in sync, Kansas has soared to unimaginable heights. The team that struggled to get first downs just two years ago is now known as an offensive force in college football.
"It's fun," Warinner said. "I mean, it's a lot of fun. We enjoy it. The players get excited.
"We don't set any bars on, well, if we get 21 this game we're going to win or if we get 24. We just try to go out and play and try to score every series."
In 2007, the Jayhawks have come as close as they ever have.
More like this story on KUsports.com