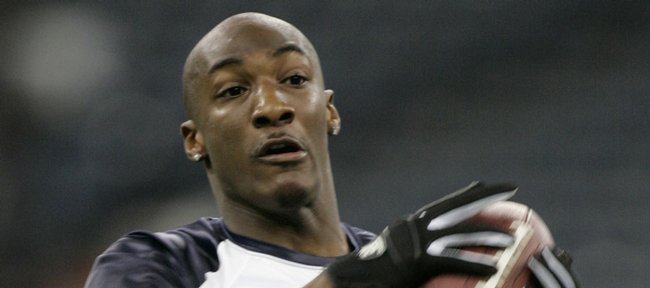 Talib's numbers
Height: 6-foot-1
Weight: 202 pounds
Vertical jump: 38 inches
40-yard dash: 4.48 seconds
Even the most informed analysts don't quite know what to think of Aqib Talib at this point.
That was apparent Tuesday during the NFL Network's coverage of the NFL Combine in Indianapolis. For a time, the broadcast turned into a back-and-forth debate on the professional value of Talib, KU's former All-America cornerback.
As for his on-field workout, Talib measured well at the RCA Dome on Tuesday. Standing a hair under 6-foot-1 and weighing 202 pounds, Talib impressed his peers with a 38-inch vertical leap. He also recorded the solid 40-yard dash time he needed, finishing in 4.48 seconds.
"Anything sub-4.5 seconds," analyst Mike Mayock said during the broadcast, "cements him in the first round."
But later on, Mayock had an insightful debate about Talib's worth with former All-Pro cornerbacks Deion Sanders and Rod Woodson. Several plays from 2007 game film were highlighted to show both the positives and negatives of Talib's game - none more scrutinized than a 68-yard touchdown reception by Kansas State's Jordy Nelson on Oct. 6, when he got a step ahead of Talib and then burned him on his way to the end zone.
"When you put the tape on, you see him do some really great things," Mayock said of Talib. "Then you see Jordy Nelson beat him on a 70-yard fade pattern and run away from him. You see a very average receiver, in Maurice Purify of Nebraska, beat him three times in the red zone (on Nov. 3).
"I keep wanting to buy into Aqib, and then the tape tells me he's got some real inconsistencies in his game."
Mayock, a former safety for the New York Giants, is the NFL Network's answer to ESPN draft guru Mel Kiper Jr. Lately, Kiper has projected Talib going seventh overall to the New England Patriots.
Mayock countered by saying that he could see five cornerbacks going in the first round of the NFL Draft, which starts April 26 in New York. He ranks Talib as the third-best corner available, behind Virginia Tech's Brandon Flowers and Troy's Leodis McKelvin.
Sanders - whom Talib considers his idol - also was impressed, calling Talib "a solid player."
But both agreed that labeling Talib a can't-miss prospect shouldn't come without hesitation. Mayock especially was flustered at how K-State's Nelson ran away from Talib on his way to the end zone, pointing out that Nelson ran a slower 40-yard dash than Talib did at the Combine.
"He runs away from Aqib Talib," Mayock said. "That's a 4.51 guy. I don't want to hear (Talib) quit. That bothers me."
Talib, though, has ability that few can match in this NFL Draft, meaning he's looking to get a huge payday after his name is called. The NFL Network analysts gushed about Talib's athleticism and ball skills, and picking off 13 passes (returning two for touchdowns) speaks to the playmaking ability he possesses.
Scouts and front-office personnel now will dissect Talib even further between now and the NFL Draft. Talib could work out at KU's Pro Day on March 11, or let his Combine performance stand.
Either way, what he did in his 34 career games at Kansas probably will mean more than anything. And the jury still seems to be deliberating on what to draw from that.
"The tape to me is about 80, 85 percent of the process," Mayock said. "When I see those kinds of inconsistencies, lack of effort on tape, I get nervous.
"I think who you are is who you're going to be."
More like this story on KUsports.com