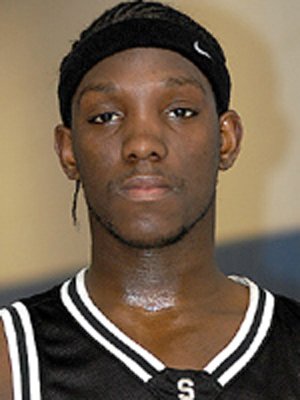 Kansas University's basketball program, which already has signed the country's No. 1-ranked junior-college player in the Class of 2008, today has its sights set on landing No. 3-ranked Tyrone Appleton.
Appleton, a 6-foot-3, 190-pound lockdown defender from Midland (Texas) College, will announce for either KU, Kentucky, Iowa State or Texas at a late-afternoon news conference.
Appleton is averaging 12.5 points and six assists a game for 26-3 Midland College, 94-75 winners over KU signee Mario Little's Chipola (Fla.) CC team in last year's NJCAA title game.
"He is probably a true point guard in every sense," said Dr. James Dye, a physician in the Gary, Ind., area, and father of Appleton.
Dye was coach of his son's Sports Youth Foundation AAU team.
"Ty is best at distributing the ball and getting everyone involved. If I had to describe his game, I would use the term, 'defense,'" Dye added. "He prides himself on defense. Even as a young guy, he learned defense before he focused on offense."
Appleton, 21, who spent his junior year at Roosevelt High in Gary, Ind., spent his senior year (2004-05) on the postgraduate team at Bridgeton Academy in Maine. He was a fifth-year senior at Harmony Community School in Cincinnati, where he averaged 19.5 points a game.
He signed with Virginia Tech, but failed to qualify academically and has spent two seasons at Midland College.
"Tyrone developed his offense to where it is today," Dye said. "He was always a slasher, always able to get to the basket when he wanted to.
"As a junior in high school, people were saying he couldn't shoot. So his 11th-grade year we went into the gym and put up shot after shot after shot. Since then, he's been a very confident shooter."
Dye traveled with his son on official visits to San Jose State, Iowa State and Kansas and on an unofficial visit to Kentucky.
Appleton, who was unable to make it to Lawrence in time for KU's game against Nebraska on his official visit (Jan. 26-27), returned for the 110 Years of KU Basketball Celebration game against Colorado on Feb. 16. The fact he made two visits to KU in such a short period with no other visits to other schools has made many believe the Jayhawks are in great position to land the sophomore guard.
"He could have closed his eyes and chose a program just by the X's and O's and not gone wrong," Dye said. "I told every coach my major concern was with academics, getting a good education. My job was to make sure we looked into the academic end of all programs."
As to how he'll fit in at KU if he indeed picks KU, Dye said: "Every one who has recruited him ... all have given him the point-guard position. All coaches respect his ability in terms of his past performances to run a team. He is a floor general - a hard-nosed defensive player.
"At this point, where we fit in with coach (Bill) Self ... he doesn't put a lot of premium on positions (as they are interchangeable)," Dye added. "If it is Kansas ... it is probably what you see now, averaging 18-20 minutes. By no means would coach Self change his specific style for one player. He will show Ty where he fits in."
As far as Appleton the person ... "he is very quiet," Dye said. "He always looks at you with a poker face. He is not a talker. You know when he's pleased and not pleased by his expression. He's an introverted guy. On the court, it's all business. Basketball has been the center of his whole life. At 21 years of age, he's played basketball 15 years. He's had a phenomenal amount of success."
¢ More on Rod's brother: The Seattle Times has reported some specific information on the tragic death of KU senior Rodrick Stewart's brother, Allen.
Allen Winston, the 24-year-old adopted brother of KU's Rodrick and former USC player Lodrick Stewart, died of gunshot wounds in Tukwila, Wash., early Thursday morning.
Winston, the Times reports, died at Harborview Medical Center after he was shot in his car Wednesday night while driving in Tukwila. Tukwila police are asking that anyone with information about the shooting call 911 in Washington. Winston played basketball at Seattle's Rainier Beach High school before he graduated in 2003.
"He was one of those kids that was never going to be the big superstar like his brothers, but it didn't bother him," Rainier Beach coach Mike Bethea told the Times. "He was the best teammate. He'd root everyone on and push them to be better."
Winston stopped by practice last week to show his former coach his newborn son.
"We all knew him really well. ... We're really going to miss him," Bethea told the Times.
¢ Gameday info: KU fans are invited to watch a live broadcast of ESPN College Gameday on Saturday morning at Allen Fieldhouse.
The ESPN College Gameday set will be located on the floor of the Fieldhouse. Fans will have open seating in the east stands for the morning activities. The event is free to the public, and doors will open at 8 a.m. At 9 a.m., ESPN will air a segment from the Fieldhouse for SportsCenter and will follow that with a live, one-hour show from 10 to 11 a.m.
The ESPN College Gameday crew will conduct a live interview with KU coach Self during the 10-11 a.m. hour. Parking is free, but the Fieldhouse and parking lots must be vacated following the morning show.
Gameday will air live from the Fieldhouse from 7-8 p.m. Only ticketed fans for the KU-Kansas State game will be admitted to that portion of Gameday live.
More like this story on KUsports.com