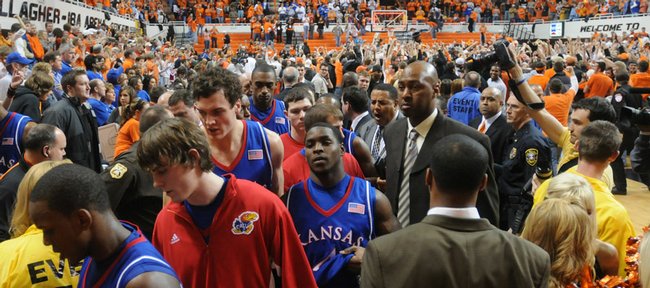 Reader poll
Oklahoma

14%

164 votes

Baylor

60%

677 votes

Nebraska

7%

79 votes

Oklahoma State

9%

110 votes

None of them will get in

7%

88 votes
1118 total votes.
Go figure
2
Three-pointers made by KU, in 11 tries
8
Three-pointers made by OSU, in 17 tries
17
Minutes played by Kansas' Darrell Arthur before fouling out
0
Points by KU's Brandon Rush in the first half (he finished with 12)
13
KU's rebounding advantage (34-21)
0
Fast-break points credited to KU (to 6 for Oklahoma State)
12-3
Kansas' advantage in offensive rebounds, leading to :
15-2
KU's advantage in second-chance points
Stillwater, Okla. — Kansas University's basketball team threw the ball all over Gallagher-Iba Arena Saturday in committing a whopping 21 turnovers.
The Jayhawks missed nine of 11 three-point tries, shot 42.9 percent for the day and fouled point guard Byron Eaton time after time. The 5-foot-11 jitterbug hit 16 of 18 free-throw tries.
It's easy to see why the No. 4-ranked Jayhawks suffered a 61-60 defeat Saturday at Oklahoma State.
"We stunk," KU coach Bill Self said after the Jayhawks dropped to 24-3 overall and 9-3 in the Big 12 Conference.
"We played like a team : I don't know if we were distracted, but we certainly gave the appearance of being distracted, not as focused because we made a lot of mental mistakes. That usually comes from focus."
It's easy to see why two of the Jayhawks' regular-rotation players - and their caring teammates - might have been distracted Saturday.
Darnell Jackson's cousin, Kascey Corie McClellan, 19, died Wednesday of gunshot wounds sustained in a Feb. 9 incident at an Oklahoma City nightclub.
Rodrick Stewart's brother, Allen, 21, died the same day after being gunned down in Seattle.
"We've got a lot going on. It's not the players' fault they are distracted," Self said. "We had two murders this week with immediate family. I've never coached that before. I don't know the coaching manual on that stuff. Still, today we were all here, and if you are here, you've got to perform. We didn't do it."
Midwest City, Okla., native Jackson was by far KU's most effective player with 16 points and 10 rebounds in 36 minutes. Stewart had a rebound in 11 minutes, playing more than normal with Sherron Collins (no points, 11 minutes) still limited because of a bruised knee.
"I think they (Jackson and Stewart) have done a pretty good job of allowing other people to help deal with some things that are totally senseless. It's so sad things can occur. Why?" Self asked in an emotional tone. "I know it's hard for them and their families to deal with. I think they've done a good job."
Jackson's bank shot at :41 tied the score at 60. It marked the last points he'd score on a day he suffered five turnovers.
"It didn't make it hard to play at all," Jackson said. "It made me focus even harder to play for my teammates. They have helped me a lot. They always are checking on me, making sure I didn't drift away."
Stewart - who, like Jackson, has been shaken by the family tragedy and received counseling at KU this week - admitted: "My head was not into it today."
Still, the Jayhawks, who trailed by as many as nine points the second half, had a chance at the end.
Eaton, who was fouled by Sasha Kaun, hit one of two free throws at :12.6 to bust the 60-60 deadlock.
The Jayhawks did not call timeout and got off a shot before the buzzer. Mario Chalmers, who considered driving, passed awkwardly to Brandon Rush, who missed a deep corner shot just before the final horn.
"We ran dribble-handoff into a ball screen. They switched it. Mario tried to make a play against a big, (Marcus) Dove," Self said. "It broke down after that. We got a look, but not a great one. In that situation, you hope to get the ball going to the basket.
"We could have called a timeout. Sean (Sutton, OSU coach) could have switched defenses. We decided to play it the way it was, how we practiced it."
Rush - he was 0-for-5 the first half before heating up to score 12 points off 5-of-11 shooting the second 20 minutes - said he thought his three was a game-winner.
"Mario was supposed to drive, make a play for himself. They switched and double-teamed. I got it, faked one time and threw it up. I thought it was good. I thought at least it would bounce and go in, a miracle," Rush said.
Rush thought the Jayhawks bonded well in responding to the tragedies this week.
"They just played good tonight," he said of the Cowboys. "I thought we had the game sealed at the end. They made plays at the right time. He (Eaton) did a good job of getting fouled and leading them.
"(Eaton) was the MVP of the game. We couldn't contain him at all," Jackson added of a player KU fouled both up on the perimeter and on the inside.
Eaton finished with 26 points, four assists, three steals and five turnovers.
"All they did the last 10, 12 minutes was basically run out the shot clock and play Eaton on the high ball screen," Self said. "What's so sad is we went to soft trapping the ball screen and put our hands on him two or three times and gave him free throws when there's nowhere to go cause we've got two guys on him. It's frustrating.
"How many times did we foul at the end of the shot clock? That's certainly a lack of discipline."
The Jayhawks will meet Iowa State at 6 p.m. Wednesday at Hilton Coliseum in Ames, Iowa. Stewart will miss the game so he can attend his brother's funeral in Seattle. The Jackson family plans to work the funeral around KU's schedule. Jackson is not expected to miss any games.
More like this story on KUsports.com