Document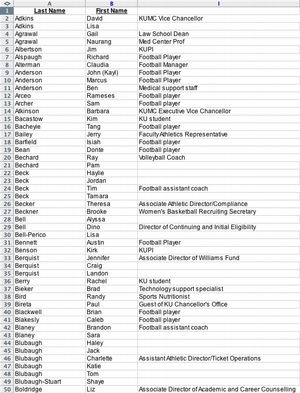 2008 Orange Bowl
When Kansas University's charter plane landed at Forbes Field after the Jan. 3 Orange Bowl, Jayhawk fans didn't so much see football players walk off as much as they saw ordinary people.
Lots of people. And all those people cost a lot of money to fly and put up in hotels. In fact, the total cost for KU to go to the Orange Bowl was about $2 million, according to figures released this week by KU as a result of a Lawrence Journal-World/6News Freedom of Information request.
About $1 million was for team travel, food, equipment and supplies. Another $300,000 was spent on athletic staff travel and food, and $350,000 was spent on the band and cheerleaders.
"It was a special moment in Kansas athletics history, and we wanted to share it with as many people as we could," said Jim Marchiony, associate athletic director.
Among those in the official party:
¢ Gov. Kathleen Sebelius and her family. Sebelius also brought as her guest Larry Gates and his wife. Gates is Kansas Democratic Party chairman.
¢ KU Chancellor Robert Hemenway and his family.
¢ Provost Richard Lariviere and his wife.
¢ Members of the Kansas Board of Regents, deans and their spouses, professors, other coaches and the majority of athletic department staffers, as well as children of anyone who wanted to bring them.
All told, more than 500 people, including players and coaches but not band members or cheerleaders, were part of KU's official Orange Bowl travel party, though cheerleader and band travel was covered as well.
"The plane fare was picked up for everyone," Marchiony said. "If extra hotel rooms were involved, they paid for those."
The athletic department also provided per diem money for some athletic department staffers. Per diem varied from two to 10 days.
The costs, though, did not come out of the athletic department's general budget. KU is expecting to make $2.1 million from its trip to the Orange Bowl, including a $1.7 million travel allowance from the Big 12 and about $400,000 from ticket sales.
Other universities' expenses
Bringing extra people to prestigious bowl games is not unusual, but KU's official travel party was larger than most.
The University of Illinois, which will have spent more than $2.1 million on travel to the Rose Bowl when all is said and done, invited its president and the university board of trustees to fly along as part of the official travel party.
"Anybody who was on the official travel party was allowed to bring spouses and children," said Illinois assistant athletic director Kent Brown.
Brown said the $2.1 million, which comes out of the $4.5 million the Rose Bowl pays to any school from a conference that sends two teams to a BCS bowl, probably wouldn't cover all expenses for the team, band and administrators, and the balance would come out of Illinois' share of the remaining $2.4 million.
In most athletic conferences, bowl payouts are split among all members, once expenses are deducted.
Derek Inouchi, media relations director at the University of Hawaii, said the team's official party for the Sugar Bowl spent about $2 million on travel. In addition to the team and department leaders, the school's chancellor, faculty athletic representative and members of the board of regents also attended.
"We did pay for the spouse of the chancellor as well as some of the regents," he said.
Virginia Tech's expenses
Virginia Tech, KU's opponent in the Orange Bowl, spent more modestly than some of the other participants in BCS bowl games. Randy Butt, associate athletic director for finance, said the total for travel was about $1.3 million.
In addition to the team, the band and department administrators, "we paid for a select few members of the university administration," Butt said. "The president, the executive vice president, basically the top five administrators, their assistant and their spouses."
Butt said Virginia Tech does not pay for children to travel with their parents.
More like this story on KUsports.com