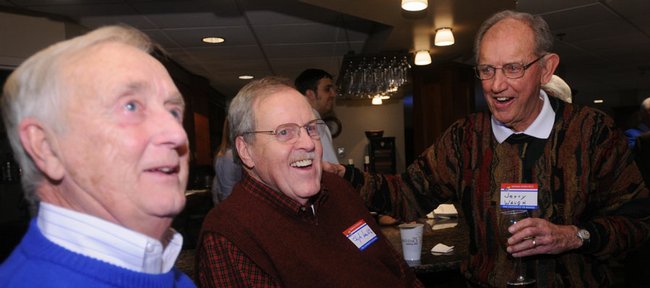 Ed Manning, assistant coach on Kansas University's 1988 national title team and Dave Robisch, star of the 1971 Final Four squad, shook hands with Darrell Arthur as KU's sophomore forward stepped onto the court for Friday's practice in Allen Fieldhouse.
Younger generation Jayhawks Wayne Simien and Jeff Hawkins, parts of KU's 2002 and '03 Final Four teams, as well as T.J. Pugh, of 1996 to '99 fame, walked about the concourses with their babies - Selah Simien, Mavulous Mavrick Jeffrey Hawkins and Charlie Pugh - introducing their youngsters to Jayhawks past and present.
KU's 110 years of basketball reunion weekend was off to a rousing start on Friday. More than 100 ex-Jayhawks including Rick Calloway, Jeff Gueldner, Bill Hougland, Bill Lienhard, Mike Maddox, Darnell Valentine and Jerry Waugh to name just a few - took advantage of Bill Self's offer to watch the pre-Colorado game workout.
"I'm a picture guy. I want to get as many as I can," gushed senior guard Russell Robinson, who is enthused about all the Jayhawks in town for tonight's 110-year reunion banquet, which will only be a happy occasion if (23-2, 8-2) KU can overcome the (10-13, 2-7) Buffs in a 12:45 p.m. tip.
The game, a rematch of KU's 72-59 win over CU on Feb. 2 in Boulder, will be watched by '88 title team members and coaches, who will be introduced at halftime with the rest of the visiting Jayhawks.
In a wild twist, one of the ESPN-Plus announcers who will call the game is Stacey King, who played in KU's 83-79 national title victory over Oklahoma. King also attended practice Friday.
At least a pair of reunion parties were held Friday night - one for the '88 titlists at an undisclosed location and another for various players from the 1950s at Lawrence Country Club.
Media members were invited only to the latter.
Suffice it to say a lot of stories were being told all over town Friday night.
"Clyde. I'm really looking forward to talking to him," KU coach Bill Self said of Clyde Lovellette, the former player he most wants to meet this weekend.
"Coach (Larry) Brown ... I really love visiting with him obviously. The thing that's cool is I don't think we look (only) at players who've had their number hanging in the rafters who are coming back. You look at it as the guys who walked on and gave themselves to the school for four years, or the guy who was a backup point guard, the non-heralded guys. They're just guys that gave their blood, sweat and tears to a place that was bigger than them."
Lovellette, star of the 1952 title team, was one of those who dined at LCC on Friday. He was teased about living in snowy Munising, Mich., located in the upper Peninsula of the Wolverine State. Not wanting to cram his 6-foot-9, 235-pound body into a small plane, he made the long drive to Lawrence for the weekend festivities.
"I drove on ice and snow for maybe the first 50 miles, then it cleared up," said Lovellette, who was snowed in last February and unable to attend a reunion for the 1952 championship team.
"It snows every day. You've got to like snow. If you don't you are in the wrong place."
Lovellette, the fourth-leading scorer in KU history who may be known best for scoring 33 points and grabbing 17 rebounds in KU's 80-63 national-title victory over St. John's, said today would mark the first time all year he's seen the Jayhawks play.
"We have TV, but I don't get Kansas games," said Lovellette. "All we get is Michigan, Michigan State, the Big 12 only if Bobby Knight is playing," he said of the former Texas Tech and Indiana coach.
"I have not seen them (Jayhawks) on the tube or in person yet. This will be my first time tomorrow. I've read about them and I've talked to Dean Smith about them. I've talked to Roy Williams about them, but haven't seen them. I'm looking forward to it to see if they've got all the things they need to get to bring a championship back to KU. I want to go to the national championship in San Antonio."
One Jayhawk didn't have any banquets on tap Friday night.
That would be Simien, who was on KU's 2002 and '03 Final Four squads.
"I'm going over to Lawrence High to check out coach Hogan's team," said Simien, who played for coach Larry Hogan at Leavenworth High, a squad facing the Lions on Friday night.
"We've got the '88 team in town. They're like the '72 Miami Dolphins around here. Nobody cares about me anymore," the former Miami Heat forward said with a big smile.
Not true, Wayne, evidence by inquiring media minds wanting to know if he'll be back in the NBA next season.
He was traded by Miami to Minnesota in the preseason, but told not to report to the Timberwolves since he was not ready to play following offseason knee surgery.
"Some teams expressed interest after the trade but I didn't want to go in there and hobble around. I want to be 100 percent," said Simien, who hopes to be in an NBA camp this summer.
KU coach Self is eager to catch up with Simien at tonight's banquet. His players are enthused, as well.
"Every video that these guys have seen since they were recruited, and every time we show a recruit video on campus, the pregame videos, anything we do video-wise, we tie in the past greats," Self said. "I think the guys have a respect and a knowledge of who they were better than they would at a lot of places because we emphasize it so much. Our guys have great respect for the tradition and history at KU."
Freshman Cole Aldrich already is well-schooled on KU hoops lore.
"I haven't really met any of the former players besides some of the guys that have played in the last few years, so it's going to be a real fun experience," Aldrich said. "It's the 110 year reunion. I'm really looking forward to meeting as many people as possible."
More like this story on KUsports.com