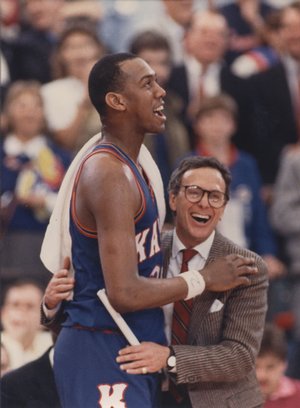 On the street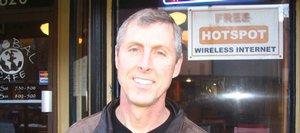 It's been nearly 20 years since Chris Piper, Kevin Pritchard, Milt Newton, Jeff Gueldner and Danny Manning closed their last season together with six straight victories to win an NCAA championship.
And they're still winning.
The five starters from that 83-79 victory over Oklahoma in Kansas City, Mo., are continuing to post success in their professional pursuits, from basketball to banking, cars to custom-made glassware.
The guys who led one of college basketball's winningest programs to its latest, greatest victory see no reason to stop the success now.
"You don't win a championship by being a slacker," said Newton, now vice president of player personnel for the NBA's Washington Wizards. "You don't win a championship by not working hard. You don't win a championship by not having a good work ethic, and being committed to a goal.
"If you have those things at that early age, then chances are you're going to continue those once you move on, off the basketball floor."
Not that it's been all that easy.
Career paths for some of the team's players have included stops in foreign lands, minor leagues and in-home offices, but they all say that their time in hightops helped lead them into successful jobs.
A rundown:
Kevin Pritchard,
NBA executive
Pritchard, who missed only one shot in scoring 13 points in the title game, today is general manager of the Portland Trail Blazers, an NBA franchise on the rise with an enterprise value of more than $500 million. Previously, Pritchard had been coach of the Kansas City Knights, a onetime minor-league team in Kansas City, and worked his way up through the ranks.
During All-Star weekend, Pritchard - at 40, the second-youngest GM in the league - will address his colleagues about how to turn around an NBA franchise.
"I learned more playing for the University of Kansas in basketball than I could ever learn in a classroom: how to deal with adversity, organization, balancing schedules, being accountable, being a good teammate, knowing when to pass and knowing when to shoot," Pritchard said. "You look at all of those things and it's important, not just in basketball but in the scope of life."
Chris Piper,
Business owner
Piper, who grew up in Lawrence and was captain of the championship team, is owner of Grandstand Sportswear and Glassware, a Lawrence-based company with 32 employees who deal in apparel and produce decorated glasses and containers for a variety of businesses, including craft breweries.
Even in 1988, Piper figured that his teammates would be successful well into the future, given their collective desire to win.
Don't forget: This was a team that lost two of its first three games, then dropped home games to Kansas State, Duke and Oklahoma before roaring back to beat those final three in the NCAA Tournament on the way to the title.
"You don't win a national championship by having a bunch of guys who are ready to quit at the first sign of trouble," said Piper, who also works as color analyst on the radio for Jayhawk basketball. "I think the lessons we learned in '88 carried over for a lifetime. Adversity makes you tougher, and you have to be able to rely on each other to succeed."
Jeff Gueldner,
Business owner
Gueldner, who scored all of two points in the title game, is a year into his latest career. He's president and owner of Crossroads Automotive, selling preowned automobiles near the intersection of Santa Fe and Interstate 35 in Olathe.
He's been through plenty: First, nearly 10 years in the cell phone industry, from times of $500 phones and major corporate contracts to free giveaways and changing profit models.
Then he started his own business, Collegiate Flag Source, which at one point had 42 collegiate licenses for making products - everything from house flags to wind socks to garden flags and - regrettably - car flags.
"That was one of those colossal failures," he said.
But now, selling cars, Gueldner is confident he's found his rightful place in the business world, with up to 75 vehicles on his one-acre lot with plenty of visibility and active consumer base.
And he isn't the least bit surprised that his fellow teammates are doing well in the real world.
"One of the reasons why we were able to succeed - beyond having Danny - was that we had a group of intelligent guys that understood, that bought into a system and understood, what we needed to do to succeed," he said. "You had to be smart playing for coach (Larry) Brown, because you changed plays, sometimes two or three times a week. The complete playbook would go out the window, and you'd run a whole different series, based on who you were playing.
"You couldn't be stupid, or you weren't going to play for him. And so we had a good group of guys. It doesn't surprise me that people are having all kinds of success."
Milt Newton,
NBA executive
Newton, who made all six of his field goals during the title game at Kemper Arena, is awaiting his shot to join two fellow Jayhawks from the '88 team - Pritchard and R.C. Buford, one of Brown's assistants who now is general manager of the San Antonio Spurs - to run an NBA franchise.
In Washington, Newton oversees eight scouts and assists with managing the team's salary cap, assessing trade proposals and other matters deemed critical to the club's success.
Newton knows his experiences playing at KU, including the championship run, helped get him on the path to success.
"You look at our team's makeup; we had some really high-character guys - some guys who were willing to work, to give blood, sweat and tears and do whatever it took, under leadership, to become successful, whether it was on the court or off the court," Newton said. "If you're going to get after it, and do what it takes, the right way - to get things done and be successful on the court - then, obviously, that is going to transfer once you get off the basketball court into your business life."
Mike Maddox,
Banker
Mike Maddox, played one minute in the title game, taking one shot - he missed - to end his freshman season. Now he's president for the northeast Kansas region of Wichita-based Intrust Bank.
The region includes Intrust locations in Lawrence, Topeka and Johnson County, holding about $540 million in deposits.
Maddox still marvels that he's included on the list of successful players and professionals from that championship team, including Manning (the top NBA draft pick in 1988, who now is a KU assistant coach and is a co-owner of the Rock Chalk Car Wash in Lawrence) and all the other guys who have made and continue to make names for themselves.
"When you play basketball at Kansas, that's the equivalent of getting your MBA at Harvard, in basketball," said Maddox, who earned a law degree at KU. "Being in that program, you learn more about basketball than 99.9 percent of the people out there. A lot of guys have been able to take that education and leverage it into some really neat careers.
"The other thing is that KU basketball's a big fraternity, and the people you get to meet being associated with the University of Kansas - it's phenomenal. And the contacts and opportunities and doors that that opens are really incredible.
"Now, it's up to the individuals to take advantage of that opportunity - and, obviously, you have to perform once you get that opportunity - but everybody's done a pretty good job of it."
More like this story on KUsports.com