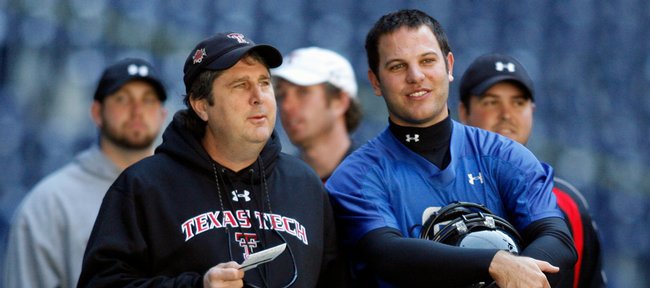 The Fox Sports college football panel raised the subject a few minutes after revealing the final BCS standings.
Texas would be a facing an "emotional hangover," the group predicted, which qualified as part coachspeak, part pop psychology and part common sense.
The reasoning: As much as the Longhorns might enjoy the Tostitos Fiesta Bowl, they'll be wishing they were a couple of thousand miles away, in south Florida, preparing for a national championship game. No one is questioning the Longhorns' qualifications, just whether they want to be in the Valley of the Sun against Ohio State.
But the Longhorns say they aren't battling a mixture of melancholy and bitterness.
"I can't imagine another team being more motivated than we are," receiver Jordan Shipley said.
"If you got to see practice . . . everybody is jumping around, high-fiving people, jawing at each other and having fun. That's how you know we're ready to play this last game."
Recent bowl history reveals that emotional hangovers can be as real and painful as anything caused by Mr. Jack Daniels.
A one-loss Cal team thought it had earned a BCS game in 2004 and saw Texas go instead. The result was a 45-31 loss to Texas Tech in the Holiday Bowl.
Michigan wanted a rematch with Ohio State after losing a No. 1 vs. 2 showdown in 2006. No such luck. The consolation prize was a Rose Bowl bid and a 32-18 loss to Southern California.
Why should Texas be different?
For one, a trademark of this season's team has been the ability to meet most every challenge, notwithstanding Texas Tech's two-minute drill.
"I can't imagine a more fun team or a more resilient team," coach Mack Brown said.
Brown has taken no chances. He resumed the physical practices that marked last season's preparation for the Holiday Bowl. One drill has three offensive linemen going head-to-head with their defensive counterparts, with survival trumping self-pity.
Brown solicited outside voices, with former Texas Tech coach Spike Dykes among those who spoke to the players.
The Longhorns also had time to deal with their BCS snub.
When Oklahoma passed Texas in the BCS standings Nov. 30 and won the Big 12 South tiebreaker, the Longhorns understood the long odds against a national title game appearance. The perception was confirmed the following week.
"We can't control the BCS," defensive tackle Roy Miller said. "We found that out the first week. If you didn't realize that the first time, you definitely realized it the second time."
Much remains at stake.
With a win, the Longhorns would probably finish No. 2 in the final polls.
Texas has an outside chance of an Associated Press title with a big win over Ohio State and a BCS title game win by Oklahoma, assuming voters haven't forgotten the Longhorns' 45-35 win over the Sooners in Dallas.
And players don't want a season that exceeded most expectations to end badly.
"It would be a shame for us to feel sorry for ourselves being in a BCS ball game," Shipley said.
More like this story on KUsports.com