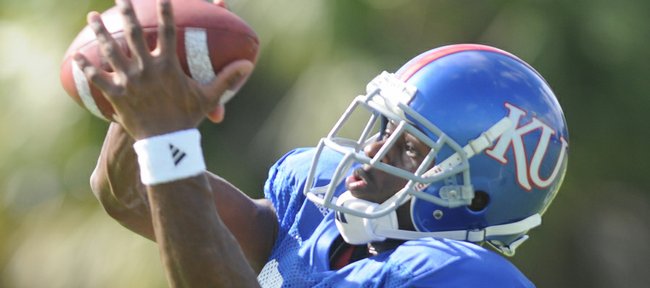 Deran Joseph Fields gazes upward, his eyes widening below a curly mat of hair.
At 21⁄2 months old, he doesn't seem fazed by reporters around him.
"It seems like he's enjoying it," Dexton Fields says with the smile of a proud father. "He ain't crying."
Dexton isn't fussing, either.
Two weeks ago, his girlfriend of more than a year, Kelsey Schepmann, had to take a final at Kansas University. That left Dexton, KU's fourth-leading all-time receptions leader, with baby-sitting responsibilities.
So, when Dexton had to go to a football media day, Deran had to come along, too.
Wearing a blue and white Calvin Klein shirt, brown pants and baby blue slippers, the infant barely made a sound while resting in his father's arms.
"This is a little bit harder than football," Fields said. "It kind of put things in perspective when you have a kid. You realize that football is not everything. This is life."
Life for Dexton Fields is about to change quickly.
He says the government assistance only lasts so long. His college career has only one game remaining. After starting the season with a foot injury, he hasn't had the kind of senior campaign that he'd hoped for.
Sure, the Insight Bowl will be important to the Jayhawks. It will be important to the coaches and the players and the fans and the families.
But it might be most important for Dexton Fields. This is one of his last chances to show scouts that he deserves a shot in the NFL.
It's one of his last chances he has to make an impact on the field that could help both he and his son.
"Anything can happen," Fields said, "if I go out and perform the way that I know that I will."
'I've never had responsibility like this'
Dexton Fields gave his phone to assistant strength and conditioning coach Jared Kaaiohelo every day, just in case.
The orders were simple: If Dexton's cell phone received a call from Kelsey, Jared was to pull Dexton out of practice so he could be there for the birth of his son.
On Oct. 2, though, Dexton forgot to bring his phone to the practice field.
After workouts, he received the call. He rushed immediately to the hospital.
Dexton said it was a blur from there. Within a few minutes, he was holding his newborn son.
He said he still remembered his exact thoughts while cradling Deran.
"Just the word, 'responsibility,'" Dexton said. "Until him, I've never had responsibility like this. I could do what I wanted to do, go where I wanted to go. Now, he comes first. That's what I was thinking: How much it's going to change. What I had to do to take care of him."
The week also was significant because Dexton was going to play in his first game for KU since Week 1 after suffering a foot injury. That week, against Iowa State, he caught two passes for 56 yards.
"I wanted to go out there and play the best that I could because I knew eventually I was going to have to provide for him," Fields said. "Every game has been like that for me."
It hasn't been easy adding the extra duties to his schedule.
Dexton had only two classes in the fall semester, and only one of them was on campus. That ended up being a blessing, as taking care of his son became a daily responsibility.
Sometimes, the sleep only came in 30-minute increments. Early-morning weights were made even tougher, as a tired Dexton would make his way to the workout.
He still remained motivated despite the tougher circumstances.
"I have to do it. That's what I have to keep programming into my mind," Fields said. "If I don't, I won't take care of my responsibility like I need to. I try to look at it like it's not his fault, you know what I mean? ... I have to take care of him."
Dexton says the two watch "The Fresh Prince of Bel-Air" and "Married With Children" on television together. They also occasionally visit teammates' apartments, where teammates like Joe Mortensen have tried, unsuccessfully, to get Deran to do push-ups.
"He's not there yet. Of course, he's still young," Mortensen said with a laugh. "You gotta (give) tough love. You gotta get him right from the start."
Looking ahead
Fields said he isn't surprised that his numbers are down a bit.
After leading the Jayhawks in receptions the last two seasons, Fields is fifth on the team this year with 19 catches for 209 yards and three touchdowns.
"I think once I got injured, (KU quarterback Todd Reesing) found that Kerry (Meier) and (Dezmon) Briscoe were reliable also," Fields said. "When I came back in, I came back in as the last receiver. I had to kind of get what I could get. I don't blame him. They handled business while I was out."
Fields has picked up the pace in his last few games. He has a touchdown reception in three straight contests, and also had his best performance of the season in KU's last game against Missouri, where he caught seven passes for 72 yards.
"I think Dex definitely has enough talent to play at the next level," Mortensen said. "He hasn't had the greatest year. A lot guys on the team haven't. I think he's definitely capable of playing."
Now, Fields knows, has to be the time to show his abilities.
He graduated with a degree in African-American studies from KU last week, but his goal is to play in the pros.
Sure, there will be workouts after the bowl game. But for now, his best chance to shine will be in his final collegiate football game in Tempe, Ariz.
"It's kind of hard leaving (Deran), you know, like when you go away for games and stuff, because you're so used to being there with him," Fields said. "It's all worth it, though. I have to take care of business, so I can provide for him."
More like this story on KUsports.com