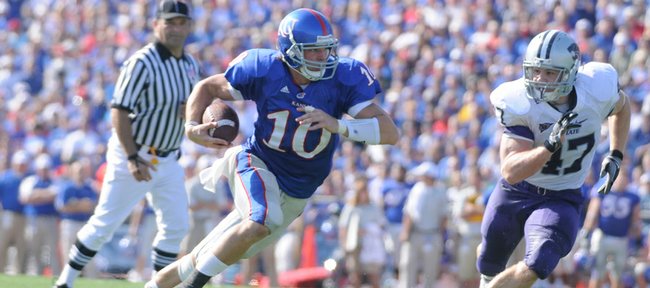 Finding his niche
After Todd Reesing earned the starting QB job in 2007, Meier resurrected his collegiate career as a WR:
Year: 2007
Receptions: 26
Yards: 274
TD's: 2
Year: 2008
Receptions: 87
Yards: 932
TD's: 7
Good ol' days
Kerry Meier began his career at Kansas as a quarterback:
Year: 2006
Games: 8
Attempts-Completions: 184-104
Yards: 1,193
TD's: 13 (5 additional rushing)
INT's: 10
Even now, even after the accolades and the Sports Illustrated cover and the unlikely emergence as one of the Big 12's top receivers, Kerry Meier's mind sometimes drifts to a single pass thrown 17 months ago.
It was a Saturday morning in August, one of the final days of preseason practice leading up to the Kansas University football team's 2007 season, and Meier was locked in a quarterback battle with then-sophomore Todd Reesing. The particulars of this practice haven't faded over time. As it went, Meier was leading a drive downfield during a scrimmage, a receiver broke free, and there, in that moment, was an opportunity to complete a touchdown pass while providing coaches one more reason why he was the right choice to lead Kansas.
He had made hundreds of passes like it in his career. As a high school quarterback at Pittsburg High, and as a red-shirt freshman quarterback for the Jayhawks the previous season. But on this day, as he sent a pass spiraling through the morning air toward an outstretched receiver, it didn't go where it was supposed to, flying just out of the reach of his finger tips.
Overthrown. A missed opportunity.
A year and a half later, Meier still thinks about that pass. Maybe, he admits, it had nothing to do with how things ended up, with his subsequent demotion as the starting quarterback of the Kansas Jayhawks and unlikely rebirth as something else altogether.
But maybe it did.
Either way, it represents as good a place as any to begin Meier's story, one in which disappointment and frustration gave way to opportunity, and he realized, for maybe the first time, that success — the only real entity he'd known since childhood — was not necessarily a given.
A family of athletes
The home in which Meier grew up, located in the small Kansas town of Pittsburg, was less "traditional household" than breeding ground for athletic prowess. Meier's oldest brother, Shad, would go on to star at Kansas State and later catch passes from Steve McNair as a member of the NFL's Tennessee Titans. There was also Dylan, who would start at quarterback for Kansas State and later play professionally overseas, and Adam, who would play defensive back at Pittsburg State.
This is the world in which Kerry Meier grew up — athletic success was much a part of the family's fabric as nightly gatherings around the dinner table.
While it wasn't blatant — and while Dennis and mother Valerie did their best to curb the importance of athletic glory in the eyes of their youngest son — there was a certain expectation level that had been forged by the family's other tips.
The Meiers, by nature, were athletes. And great ones, at that.
"It kind of came off that way," says Meier. "You know, the only way to get attention around here is if you're doing well. I would definitely say that to a certain extent. Who doesn't want a little bit of that?"
Says brother Dylan, who recently signed a contract with Rhinos Milano of NFL Italy, "I felt it, also, with the success of my two older brothers. You don't want to be the black sheep of the family. We're a group of guys, where, if Kerry was a standout singer, it's not like we were going to outcast him. But I think there is a pressure involved, and that's just the competitive nature; it's been in our blood for a long time."
If the pressure ever got to Meier, however, it didn't seem to show. Baseball? Basketball? Didn't seem to matter. Whichever sport happened to be in season, whichever game the neighborhood kids happened to be playing, Meier excelled.
"One of the best athletes I've ever been about was (former Tennessee Titans receiver) Drew Bennett," says brother Shad, who spent five seasons as an NFL tight end with the Titans and New Orleans Saints. "Pool, bowling, catching the ball, throwing the ball, anything he did, he was the best at. That is a pure athlete. And that's what Kerry was growing up."
So when Meier took over quarterback duties at Pittsburg High, leading the team to back-to-back sectional titles and developing into one of the nation's top-ranked prep quarterbacks by his senior year, it didn't really surprise too many throughout Pittsburg. When he eventually earned a scholarship to play quarterback at home-state Kansas University, earning the starting spot and helping the Jayhawks to a 6-6 record as a red-shirt freshman, that didn't strike anyone as too big a shock, either.
And entering his sophomore season in 2007, healthy and looking to build upon his success as a freshman, there was no reason to believe he wouldn't be back under center.
An unfavorable situation
When the hammer came down, when Kansas coach Mark Mangino called Meier into his office in the late stages of summer training camp in '07 and informed him of his decision to go with Reesing as the team's quarterback, it caught the incumbent signal-caller off-guard.
Up to that point, he and Reesing had split reps with the first team equally, had performed, in Meier's eyes, just about neck-and-neck. It had been decided, however, that Reesing, who came in and performed ably while Meier was injured the previous season, would be atop the depth chart, and Meier would be his backup.
The day he learned of Mangino's decision, as you might imagine, was not the greatest day in Meier's life. He went home, headed to his bedroom and turned on The Grateful Dead, ruminating on what, exactly, his demotion meant in the grand scheme of things. He also came to a realization that was difficult to bear: For the first time in his life, a life marked by athletic success, he had failed at something.
In the following days, Meier attempted to bounce back as best he could. He liked calling home, because it offered a chance to talk about something other than football, and the talks with his brothers, each of whom had dealt with their own form of adversity during their respective football careers, helped provide some perspective on the situation.
"He and I can be honest about stuff," says Shad. "I told him, 'Listen, anything you've touched you've had success at. There are going to be times in life when there are people who are better than you.' It was probably one of the best things that could have happened to him. It was a situation where you can either take it like a man, or you can swallow your pride and learn from it."
At the same time, there was only so much Meier could do. His playing time depended solely on things out of his control. And while the pep talks helped, he was dealing with the quickly developing reality that he was poised to watch his college career pass him by from the sideline.
"I was like 'God, this is going to suck,'" says Meier. "I'm going to have to wait for either Todd to screw up, or — I wasn't thinking about him getting hurt or anything like that, but that was the other way (onto the field)."
Catching his break
On a Tuesday afternoon a couple weeks into the 2007 season, as Meier was arriving to the team's complex, still adjusting to his role as a backup, offensive coordinator Ed Warinner approached him about the possibility of trying out a few plays at receiver.
At the time, it struck Meier as an offer made out of pity —a small gift for sticking with it as a back-up. But the ability to take the field in some aspect was much-appreciated — never mind that he'd never once played receiver at any point before that — and Meier proceeded to devote himself to learning the nuances of the position.
It wouldn't exactly be glorious work. His indoctrination into the position began with a few trick plays here and there, maybe a few snaps during games. Limited action for a guy not accustomed to holding a clipboard.
"The first couple games, I was sitting back, just watching on the sidelines, being a supporter of the team," says Meier. "And it was definitely tough. Growing up, I was always on the field, I was always playing, I was always starting. It was just different being on the sidelines and watching all my teammates run out there and play."
As time went on, however, and coaches began to realize the talent they had at their disposal, Meier became a larger part of the Jayhawks' offense. He recorded his first multi-catch game against Baylor in the team's sixth game of the season and his first touchdown reception three games later against Nebraska. And following Kansas' 45-7 defeat of Iowa State, a victory that propelled the Jayhawks to 11-0 and into the national title picture, it was Meier who was splashed across the cover of Sports Illustrated, above the headline "Dream Season."
You know the rest of the story. After helping Kansas win its first BCS bowl in school history, catching two passes for 24 yards, he burst from the gates in '08, catching at least seven passes in each of the team's first six games.
In the process, he developed into a fan favorite, a living, breathing symbol of Mangino's much-referenced "team-before-player" ideals. In a culture in which college players — especially those with the accolades Meier possessed when he arrived in Lawrence — seek transfers at the first sign of adversity, he has been the rare college athlete that puts team before self.
"It's kind of tough to put it," says Meier. "But maybe this is how the man above is laying it out for me. Growing up, I was always put in a position to excel and succeed. I was always the pitcher or the quarterback; I was always given that spot. And challenging Todd at the quarterback spot, and losing that challenge, it gave me a chance to overcome and face a controversy. I overcame it, and I found a new way to get on the field, and I found a new way to help the team.
"It's definitely been a wild ride, but I've had a hell of a time in this entire process."
QB still Meier's first love
It's important to understand, however, that Meier still views himself as a quarterback.
He still remembers what it's like to play under-center, still possesses a tinge of "what-could-have-been" nostalgia when he thinks about how things played out. It's why he still considers playing quarterback his first love, and why his mind still sometimes drifts back to that overthrown pass thrown two summers ago during a Saturday morning scrimmage.
"I wasn't really thinking about it," at the time, he says. "But going back and seeing all the film and replaying it in my mind, maybe that was the play (that made the difference). I couldn't tell you."
For the most part, however, he has come to peace with his new role — a sentiment fueled, surely, by the vast success he's enjoyed in his first full season as a starting receiver.
Throughout the first half of the 2008 season, his first as a permanent starter, he spent a good deal of time ranked among the top three nationally in receptions-per-game. He ended the year as a Big 12 honorable mention selection, a distinction that might have very well been even greater had an undisclosed injury not hampered him throughout the second half of the season.
In addition, more than a few whispers have begun circulating about Meier's ability to play receiver at the next level. Many have looked at his size and his speed and his hands — especially his hands — and figured that an NFL team would be crazy not to take a chance on the 6-foot-3, 220-pound pass-catcher.
Mangino, for one, seems to be among this group.
"The way he's going," the coach said following a recent practice, "he's going to make some money some day playing receiver."
Talking about the quarterback battle recently, in a cramped office on the KU campus, Meier admits that, even after nearly two seasons at receiver, he's still growing comfortable with the switch. He is asked if, in hindsight, he's happy with how the quarterback battle ended up all those months ago, whether he thinks it turned out for the best. He smiles, hmm's and ahh's his way through a response, not quite able to bring himself to say yes.
"My first love is obviously quarterback," he says. "But after being introduced to wide receiver, and seeing it from their perspective and playing it and going through games, it's definitely a whole different game.
"I've definitely grown into liking it," he adds. "Almost to a love."
Only almost? he is asked. Even after the accolades and the Sports Illustrated cover and the unlikely emergence as one of the Big 12's top receivers?
He rises from his chair, and before departing for an afternoon practice, where he'll prepare to play what figures to be a large role in Kansas' Dec. 31 Insight Bowl matchup with Minnesota, he smiles.
"It's an ongoing process."
More like this story on KUsports.com