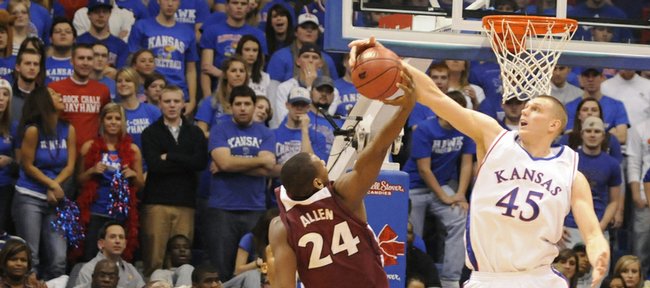 KU vs. Temple
Reader poll
Win by 10+ points

11%

90 votes

Win by 6-9 points

27%

209 votes

Win by 1-5 points

31%

237 votes

Lose by 1-5 points

10%

78 votes

Lose by 6-9 points

12%

93 votes

Lose by 10+ points

6%

52 votes
759 total votes.
Reader poll
Marcus Morris

6%

13 votes

Sherron Collins

46%

98 votes

Matt Kleinmann

13%

29 votes

Brady Morningstar

30%

64 votes

Other

3%

8 votes
212 total votes.
Reader poll
Yes

70%

87 votes

No

24%

30 votes

KU will win by 10 exactly

2%

3 votes

Undecided

2%

3 votes
123 total votes.
FINAL: KU wins, 71-59
Sherron Collins scored 19 points to go with six assists, helping Kansas pull away late in a 71-59 victory over Temple on Saturday at Allen Fieldhouse.
Collins went 8-for-18 from the floor and 3-for-7 from three-point range, leading the Jayhawks in scoring for the eighth time this season.
The Jayhawks made 29 of 55 shots (53 percent) and went 7-for-17 from three-point range (41 percent). KU also hit 16 of its 25 shots in the first half (64 percent).
"We were pretty efficient offensively other than a few possessions in the first half," KU coach Bill Self said. "I am not going to say that we were great offensively today but we certainly played better than we have been playing lately. They cut into our lead in the second half but we executed when there was pressure. There were a lot of things that we did very well today."
Cole Aldrich, who was battling the stomach flu, had 13 points and 11 assists in 26 minutes. He played only eight minutes in the first half because of foul trouble.
Tyshawn Taylor had a well-rounded stat line, contributing 11 points, eight assists and four steals in 37 minutes.
Brady Morningstar added 11 points, hitting three of his four attempts from behind the arc.
Morningstar also played a key role on the defensive end, as he held the Atlantic-10's leading scorer, Dionte Christmas, to just three first-half points on 1-for-4 shooting.
"You have to be there on the catch and even if you are, he's shown he can shoot," Morningstar said. "You just have to keep a hand up and try not to get too much separation. That's about all you can do."
Christmas heated up in the second half, nailing five three-pointers before ending with 21 points. He was 6-for-14 from the floor and 6-for-12 from three-point range.
After a three from Christmas, Temple trailed just 48-46 with 11:44 remaining, but KU used a 15-2 run to pull away for good. Markieff Morris had six points during that stretch for KU.
Only six players scored for KU: Collins, Aldrich, Taylor, Morningstar, Marcus Morris (nine) and Markieff Morris (eight).
Lavoy Allen added 10 points for Temple (5-4).
The Jayhawks (8-2) will play their first road game at 9:30 p.m. (CST) Tuesday, taking on Arizona in Tucson, Ariz.
Kansas scoring
Sherron Collins 19, Cole Aldrich 13, Brady Morningstar 11, Tyshawn Taylor 11, Marcus Morris 9, Markieff Morris 8.
Taylor added eight assists and four steals, while Collins had six assists.
KU made 29 of 55 shots (53 percent) and went 7-for-17 from three-point range (41 percent). Temple, meanwhile, was 19-for-47 from the floor (40 percent) and 10 of 20 from long range (50 percent).
Dionte Christmas lit it up in the second half, scoring 18 of his 21 points in the final 20 minutes. He also hit five three-pointers after halftime.
KU 71/TU 59 — FINAL
After a missed three from Reed, Christmas misses a long shot, and KU comes away with the ball. Temple concedes after that, taking the pressure defense off KU. The Jayhawks come away with a 12-point victory.
KU 71/TU 59 — 1:46 left in game
Taylor drives inside an twists his body to free himself for a short shot that goes in.
Christmas hits a free throw, then on the next possession, buries a deep three-pointer with Morningstar right in his face.
KU 69/TU 53 — 3:28 left in game
Travis Releford, who has checked in to make life difficult on Christmas, does his job. Christmas misses a tough 16-footer, and KU comes away with the board.
With the shot clock winding down, Collins drives to his left and gets all the way to the rim for a layup.
Taylor dribbles to the basket, and he dishes to a cutting Markieff Morris for an easy bucket.
Following a steal by Taylor, Marcus Morris gets the ball on a breakaway, and he is fouled while going up. He makes one of two.
Marcus Morris hustles to pick a pocket on defense, then runs full speed to save the ball before it rolls out of bounds. A few quick passes later, Taylor lays in a two in transition.
Morningstar saves a ball going out of bounds for KU, then a few seconds later, he drains an open three from the corner. Even Self reaches out to slap him on the backside after the shot.
On the defensive end, Morningstar hustles back and knocks the ball away from Christmas on a three-point attempt. Pretty good one-minute stretch for the Lawrence native.
KU 59/TU 48 — 7:46 left in game
Reed has a three rim out, and KU has gone cold from the outside.
On a feed inside from Taylor, Aldrich hits a turn-around to increase KU's lead to six.
After a TU miss, Taylor sprints out on the break, kicking it out to Collins for a three. Collins, after falling back from the contact, celebrates for a second on the floor before getting back on defense. Timeout Temple, as this run has put KU up, 55-46.
Inge breaks the Temple drought with a jumper, but KU once again beats the Owls down the floor, as Markieff Morris is fouled on a layup attempt. He makes one of two free throws.
Collins looks for a teammate, lobbing a nice pass inside to Markieff for a basket and foul. Markieff rattles in the free throw, and KU has a double-digit lead at 59-48.
KU 50/TU 46 — 10:44 left in game
Markieff Morris picks up his third foul on a cheap call inside. For a while, both twins were playing pretty well on the floor together. Aldrich subs in for Markieff.
KU's tough defense forces another shot-clock violation, and many of the alumni stand to cheer the effort.
Christmas is left alone again after a double-team inside, and he hits his fourth straight three (by my count).
Taylor gets a runner inside, and finally Christmas misses from the outside, this time on a guarded try from 23 feet.
KU 48/TU 43 — 14:46 left in game
Sergio Olmos beats the shot clock with a turnaround hook shot. On the next TU possession, Morningstar locks up on Christmas, but it doesn't matter. The 6-foot-5 guard gets enough separation to get his three up, and the ball hits nothing but net.
Morningstar answers with a long two on the other end, and later, Aldrich follows a Collins miss with an athletic stickback of his own.
KU 44/TU 38 — 16:26 left in game
Collins misses a mid-range jumper, but Aldrich cleans up with an offensive rebound and basket for KU.
Christmas gets free from the outside, and he hits another three. Not good news for KU fans.
After looking so confident on chippies early, Marcus Morris misses a layup inside.
Christmas open again, and he hits another three from the corner. KU has to start figuring out where he is on the court.
Aldrich is fouled on a shot inside, and he makes one of two free throws.
Morningstar drives inside before kicking it out to a wide-open Collins, who drains the three. Collins gives Morningstar an emphatic high-five on the way back down the court.
KU scoring
Sherron Collins 11 (5-for-8 shooting), Marcus Morris 8 (4-for-5 shooting), Brady Morningstar 6, Cole Aldrich 6, Tyshawn Taylor 5, Markieff Morris 2.
KU is shooting 64 percent, making 16 of its 25 shots. The Jayhawks have also gone 4-for-6 from three-point range (67 percent).
Temple has made 11 of 25 shots (44 percent), but five of its nine shots from three-point range (56 percent). Temple had five different players hit threes in the first half.
Dionte Christmas, who came in averaging 21 points per game, has just three points on 1-for-4 shooting.
The Jayhawks were able to make a run late despite having both Aldrich and Thomas out with two fouls. The key for KU in the second half once again should be containing Christmas. He can take over a game if left alone, and he's the best option for the Owls if they want to get back in this one.
Offensively, the Jayhawks have done a much better job getting easy points in transition. That was definitely an area that was lacking against UMass.
KU 38/TU 30 — Halftime
Tyshawn Taylor delivers a bounce pass in transition, and Marcus Morris finishes with a layup.
Allen gets an over-the-back call to put Kleinmann on the line for a one-and-one. He hits back iron on the first try.
After a Kleinmann defensive rebound, Collins leads the break, kicking out to Morningstar for a three. The Fieldhouse erupts, as almost all the fans rise to their feet.
With the seconds winding down, Collins drives to the lane, getting off a shot from 7 feet that bounced off. He jumped a few times and yelled to the sky in disgust. KU goes to the break up eight.
KU 33/TU 30 — 1:31 left in 1st half
On a nice feed inside from Taylor, Morris gets an easy layup. Allen answers with a jumper.
Quintrell Thomas gets his second moving screen call, and Self checks in Matt Kleinmann off the bench. KU's struggling to find big bodies to put in there.
Taylor hits a three over a defender. Good thing he did, because KU had five guys standing doing nothing on the offensive end.
Collins misses a layup in transition, but a hustling Marcus Morris sprints to get the tip-in.
Christmas finally gets on the board with a fadeaway three, but Collins beats everyone back down the floor, getting an uncontested layup in transition.
KU 24/TU 21 — 6:20 left in 1st half
Luis Guzman hits a three for Temple, and quickly, Self subs to get Travis Releford and Quintrell Thomas out of the game.
Morningstar hits an open three from the wing, but Brooks follows with a layup and foul inside. More importantly, he picked up Aldrich's second foul inside. The big man will go to the bench.
Lavoy Allen hits an open three, and Self calls timeout. Temple has dwindled the lead down to two at 20-18, and Dionte Christmas hasn't even scored yet.
After the break, Collins comes off a screen and gets a tough, 12-foot fadeaway to rattle in.
Ramone Moore is left open in the corner, and he hits a three. TU is 4-for-7 from the outside. All four treys have come from different Owls.
Marcus Morris gets two inside, and KU has gone to a 2-3 zone on the defensive end.
KU 17/TU 10 — 11:18 left in 1st half
Collins, coming off a screen, pulls up from 16 feet and swishes another jumper. KU has hit six of its first nine shots (67 percent).
KU forces a shot-clock violation. Afterward, Temple's Semaj Inge throws his arms out, trying to explain to a pair of his teammates what they should have done after he called out the play, "Nose."
Collins penetrates all the way under the basket, then flips the ball off the glass for a reverse lay-in. He's 3-for-3 with two assists and seven points.
Temple throws a full-court press at KU, and after breaking it, Marcus Morris misses a jumper short. Brooks hits a three at the other end, and Marcus throws it out-of-bounds on the ensuing possession.
KU 11/TU 2 — 15:36 left in 1st half
KU wins the tip, and Cole Aldrich scores the first two, reversing to his back shoulder before putting in an 8-foot, baseline jumper.
After a block by Aldrich, Collins beats the shot clock with a long three that hits nothing but net. Aldrich follows with a long jumper from 18 feet, and KU takes a quick 7-0 lead.
Ryan Brooks hits a jumper for Temple, but later, Collins threads the needle on the break, finding a sprinting Markieff Morris for a layup. Timeout Temple, as KU has pulled ahead 9-2.
Aldrich hits another long jumper. It's nearly impossible to block, as he brings the ball all the way behind his head before shooting it.
Morningstar makes a mistake in transition, trying to pass back to Aldrich instead of taking it up himself. Perhaps too unselfish a play from the sophomore.
Taylor comes up with a steal, and he gets hacked when going up for a transition layup. He'll shoot free throws after the break.
1:30 p.m.
Starters: Tyshawn Taylor, Brady Morningstar, Sherron Collins, Cole Aldrich and Markieff Morris. KU coach Bill Self did say earlier in the week that he'd seen progress in practice from Markieff. We'll see if the switch pays off.
1:24 p.m.
Mark Mangino, in black leather coat, gets some applause as he walks across the floor to talk to Lew Perkins. Behind me in the student section, three rows of football recruits are starting to file in.
Mario Little is shown on the video board, and he gets a nice round of cheering as well. He looks up to see what is causing the claps, but because he's standing at mid-court, he can't see any of the four videoboards above him. Guess he'll never know the encouragement was for him.
1:09 p.m.
Jay Bilas is in the Fieldhouse, as he'll be the color guy for ESPN2's broadcast.
The Jayhawks are shooting around a few feet in front of me, and a Travis Releford miss caroms hard off the rim and hits Sherron Collins in the knee. Collins looks over and scowls at Releford, who flashes a big grin back before pointing at him.
Just noticed that a lot of the Jayhawks, like Quintrell Thomas and Tyshawn Taylor, are wearing two pairs of adidas socks, one pair coming up further than the other. Is this a new fashion trend? Is there another benefit?
12:15 p.m.
Welcome back to The Newell Post Live, coming to you live from Allen Fieldhouse where the Kansas Jayhawks are getting set to take on the Temple Owls.
To get everyone a little more familiar with KU's opponent, here are some facts about Temple University.
• Temple originally adopted the Owl as its mascot because the university began as a night school.
• Temple was the first school in the United States to use the owl as its school symbol.
• Temple's mascot name is "Hooter the Owl."
• The school colors are cherry and white.
• Notable alumni from Temple include Bill Cosby and Bob Saget.
• The Temple basketball program started in 1894.
Now, let's get to some notes about this year's Temple basketball team.
• Dionte Christmas is tied for 19th in the nation with his 21.0 scoring average. He also led the Atlantic-10 in scoring the last two seasons. The A-10 has never had a player lead the conference in scoring three straight years.
• Christmas also was ESPN.com's National Player of the Week last week after putting up 35 points in the Owls' 88-72 victory over No. 8 Tennessee.
• Christmas has scored 30 points in nine games at Temple. Interestingly, the Owls are just 4-5 in those games.
• Though Christmas is the leading scorer, I heard TU coach Fran Dunphy say Friday on a Kansas City radio station that junior guard Ryan Brooks (13.5 point per game) is the team's most clutch shooter. Keep that in mind if this game is close late.
• Sophomore Lavoy Allen (9.4 ppg) is playing despite having a fractured left thumb.
• The Owls average 7.3 three-pointers made per game. KU averages 6.1.
• Temple's three losses have come against Clemson, Buffalo and Miami (OH). The Owls are 3-1 in true road games.
More like this story on KUsports.com