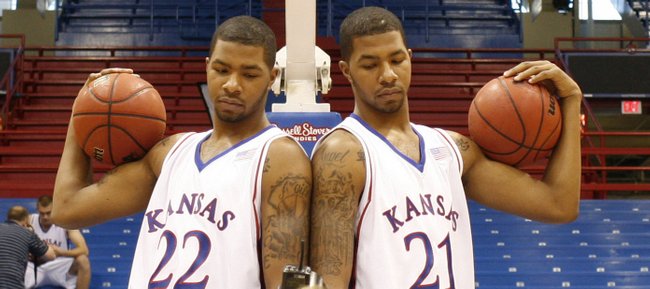 It would have been convenient for the Morris twins to attend Temple University.
"LaSalle ... Temple. We live right in the middle of both of them. It's a five-minute drive at most," said Kansas University freshman Marcus Morris.
He and brother Markieff were born and raised in Philadelphia — the City of Brotherly Love and home of Temple's Owls.
"It's the hometown school. It's where a lot of people from my high school decided to go. I wanted to get away from home. For some reason, I never wanted to go there," Marcus said.
He and Markieff — who "know everybody" on Temple's basketball roster — will meet the Owls in a bragging-rights game at 1:30 p.m. Saturday in Allen Fieldhouse.
"We have to win," Marcus said. "When I go home, I'm going to hear about it."
Next year, the Jayhawks return the trip to Philly to play in the Owls' Liacouras Center.
"That will be a lot of fun to play before all my family and all my friends," Marcus said.
The Owls (5-3) of the Atlantic 10 Conference, defeated Tennessee, 88-72, Saturday in Philly. Temple also has defeated Penn State, Lafayette, College of Charleston and East Tennessee State and lost to Clemson, Buffalo and Miami of Ohio.
The Owls' leading scorer is two-time Atlantic 10 scoring champ Dionte Christmas, a 6-foot-5 senior guard who averages 21.0 points a game. He exploded for 35 points off 12-of-22 shooting versus Tennessee.
•
Pass out the cigars: Former Kansas University basketball teammates Aaron Miles and Wayne Simien both became proud papas on Tuesday.
Simien's wife, Katie, on Tuesday gave birth to the couple's second daughter, Rael Simien. On the same day, Miles' girlfriend, Mikki, gave birth to Aaron Miles Jr.
"Aaron said he's going to call him 'Deuce,''' said Miles' former teammate, Jeremy Case.
Miles plays for Panionios On Telecoms in Greece, Simien for Cáceres Ciudad de Baloncesto in Spain. Simien's first-born, Selah Simien, was born on Oct. 5, 2007.
•
Collins on Naismith list: Kansas University junior guard Sherron Collins is one of 50 players named to the watch list for the 2009 Naismith Trophy, presented by the Atlanta Tipoff Club. Big 12 Conference players Blake Griffin (Oklahoma), A.J. Abrams and Damion James (Texas) and Curtis Jerrells (Baylor) are also on the list. The Naismith Trophy presented by AT&T; will be awarded at the 2009 Final Four in Detroit.
•
Star may go: Collins, while shopping for needy families at Wal-Mart on Thursday night, indicated he might shave the star on the side of his head. "I've still got it. I'm probably going to cut it out, though. It draws too much attention," he said with a smile.
•
Two-sport athlete picks Minnesota: Bryant Allen, a 6-foot, 160-pound football wide receiver and basketball guard from Maplewood (Mo.) High, orally committed to play both football and basketball at the University of Minnesota on Thursday.
Allen, who visited KU last Sunday, chose the Gophers over KU, Missouri and Iowa. He will be on football scholarship at Minnesota, but also will play basketball for Tubby Smith's Gophers.
More like this story on KUsports.com