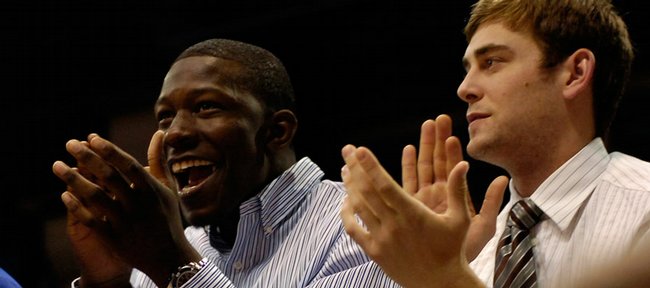 Kansas University junior guard Mario Little cell-phoned his uncle, O'Keefe, with some bad news Monday morning.
He'd broken the fourth metacarpal on his left hand at basketball practice, further delaying his major college debut.
"He'd just gotten results of the X-ray. He was devastated," O'Keefe Little said of his nephew, who will be unable to practice the next two to four weeks.
"He didn't cry or complain. He was more concerned about letting people down," O'Keefe added from his home from the South Side of Chicago.
"I told him, 'This is another test of your strength and character. It's not what happens to you in life, but how you deal with what happens to you in life.'
"The game is not over. He'll be back," O'Keefe added.
Mario, who missed KU's first nine games because of a stress fracture in his lower left leg, believes he may have played Saturday against Temple had he not had his hand tangled in teammate Tyshawn Taylor's jersey Monday morning.
"It kind of hurts ... these setbacks. I keep getting close to playing," Little said Wednesday before hopping on the stationary bike at basketball practice.
"I want to get on the floor real bad. I want to help my team. A lot of people want to see me play, people from my (Chipola, Fla.) junior college, people I grew up with, my family.
"I don't know, man," Little added, his voice trailing off.
Last year's juco player of the year has masked his frustration in front of his teammates.
On Monday, he returned from the doctor's office — with a huge splint on his left hand — in time for the end of practice.
"He was back in the locker room joking and playing. It's the type of person he is," junior guard and fellow Chicagoan Sherron Collins said.
"It's going to be a big loss. We need him out there. We were really getting better with him out there," Collins added of Little, who returned to practice Dec. 5 after being rested since late October.
Little — who joked that "I was just starting to get my groove a little bit" — said it's easy to keep a happy face in spite of his inner pain.
"That's me. I think I get that from my grandmother," he said of Hazel Lucille Little, the backbone of the family back in Chicago.
"I look at the positive things, not negative. She told me there's always a better side, everything happens for a reason. I don't know if there's a reason for this, but ..."
He'll continue to search for answers the next couple weeks.
Shortly after he's deemed fit to practice, Little and coach Bill Self will decide whether he'll enter the playing rotation during games ... or take a red-shirt.
"I want to play. It's something coach and I will talk about," Little indicated.
Self said it could be a tough call.
"I think it needs to be a joint decision between player and coach," Self said. "This team needs him, there's no doubt about that. I don't think you bring him back just to bring him back to participate if his health is not at least good by doctors standards to let him participate.
"My thinking is get him healed as quickly as possible, get him on the court and see how he reacts. If he reacts favorably, great, if not we can make a decision then."
A player cannot compete in a game in the second half of the season and still red-shirt.
"The way we interpret the rule is it'd take you right up to when the conference season starts," Self said, noting a decision must be made by the Jan. 13 Big 12 opener against Kansas State, start of the second half. If Little was hurt in the KSU game or any game after that, he would not be able to red-shirt.
"The concern is not his hand. We know his hand will be OK. The concern is whether or not he can be pain-free playing on his leg. This has delayed testing his leg a little bit," Self said.
Little says his leg has not been pain free since his return to practice.
"Every now and then," he said of feeling discomfort. "There's just a little, not a lot, though. I'll know in two weeks if it'll be 100 percent."
If his left leg is not 100 percent ... there's a chance he'll sit out this season and have two years of eligibility left.
"I mentioned to Mario he should call his high school coach and junior college coach and talk to the staff at KU and get an overall view of the situation," O'Keefe said
Little and his relatives will be able to talk about the situation more next week. He'll return to Chicago on Dec. 24 for the Christmas holiday.
"We'll do what we always do, crack jokes, give him presents and hang out with his grandmother and his cousins," O'Keefe said. "We're looking forward to getting to see him."
More like this story on KUsports.com