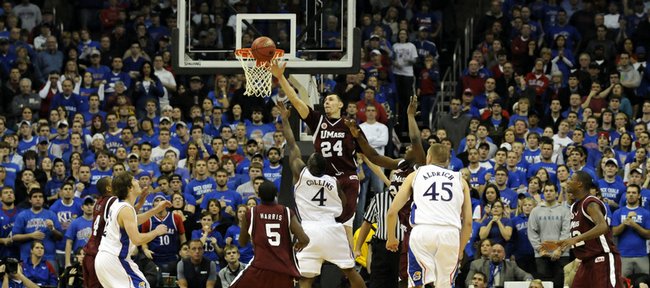 Past Event
Saturday, December 20, 2008, 4:30 p.m.
Allen Fieldhouse, 1651 Naismith Drive, Lawrence
Not available
Sherron Collins can't help but wonder what life would be like had he hit — not missed — the last shot in Saturday's 61-60 loss to UMass.
"I think everybody's attitude and feelings around here would be better. Coach wouldn't be as mad at us," said Kansas University's junior guard, who missed a driving left-handed six-footer with six ticks left. "I'm fine with it. The shot didn't fall. Hopefully if I'm in the situation again, I'll do a better job with that."
Collins would have been deemed a hero had he made the bucket. He was flu-ridden and needed an IV at halftime just to continue.
"I just threw up a couple times, had stomach issues," he said. "I wasn't myself. The IV gave me a little energy. I'm better now. It's out of my system."
Still, he was a bit run-down Wednesday. "Seven of us have the same class. We've been up all night studying," Collins said of an African American Studies class. "I'm not gonna lie. I'm a little tired. Coach said that doesn't matter. What matters is when we lace 'em up, we've got to be ready at all times."
Next up for KU is Saturday's 1:30 p.m. home game against Temple.