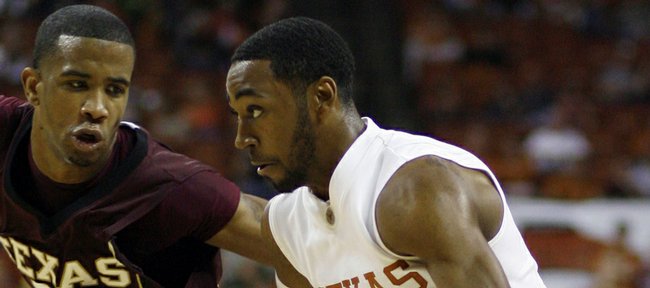 Signature wins
Here are the Big 12's biggest victories so far this winter:
1. Texas 68, UCLA 64 (UCLA now No. 14)
2. Texas 67, Villanova 58 (Villanova now No. 18)
3. Baylor 87, Arizona State 78 (Arizona St. now No. 20)
4. Oklahoma 82, Davidson 78 (Davidson now No. 22)
5. Texas A&M; 67, Arizona 66 (Arizona now unranked, but 7-2)
If the Big 12 had a signature victory roughly one month into the college basketball season, it'd likely be Texas 68, UCLA 64, on Dec. 4.
A nice victory for the conference over a Pac-10 powerhouse that routinely makes a run in the NCAA Tournament under coach Ben Howland.
Turns out the Big 12 has the Pac-10's number this season. The two conferences have squared off in 15 games, and the Big 12 has earned victories in 10 of them.
For now, head-to-head is one of only a few ways to compare the Big 12 to other major conferences.
Other ways to compare: top 25 rankings, RPI, how many teams each conference sends to the NCAA Tournament and each conference's showing at the NCAA Tournament. Obviously, the latter two comparisons won't be made until March. But here's what we know:
Head-to-head
The Big 12 is 2-3 against the Big East, 1-3 against the Big Ten, 2-1 against the SEC and 0-1 against the ACC. Not too many games.
A 10-5 record against the Pac-10 is more of a statement, though. Especially when you consider the Big 12 has already defeated most of the upper-echelon teams in the Pac-10 (UCLA, Arizona State, Arizona, USC, Washington State).
Arizona State, for instance, is ranked No. 20 after a solid 8-1 start. The Sun Devils' only loss this season came on Nov. 28 against Baylor in Anaheim, Calif. in the 76 Classic.
Top 25 rankings
Here are all the major conferences and how many teams they have ranked in the top 25: Big East—8, ACC—4, Big 12—3, Big Ten—3, Pac-10—2, SEC—1. Make what you will of that.
RPI
College basketball's Ratings Percentage Index (RPI) is another ratings system used to evaluate teams. The RPI calculates a team's winning percentage (25 percent), its opponents' winning percentage (50 percent), and the winning percentage of those opponents' opponents (25 percent).
Through Monday's games, the Big 12 had the fourth-best showing in the RPI's conference standings. The Big Ten was first, followed by the ACC and Big East.
Five Big 12 teams rank in the top 15 of the RPI (Missouri at 9, Oklahoma 10, Texas 12, Baylor 14 and Kansas 15).
It looks like the Big 12 is the third or fourth best conference in the nation, according to the stats — for now. Come March, it could be a completely different story.
More like this story on KUsports.com