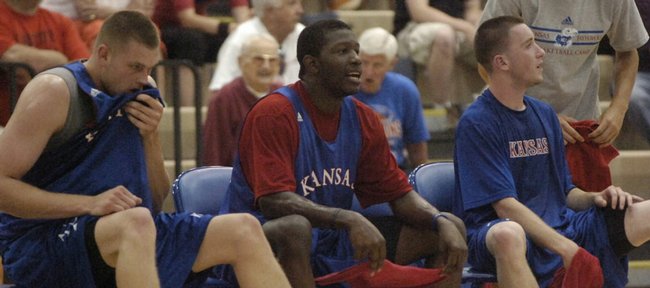 Kansas University junior basketball guard Mario Little, who has yet to play in a game this season because of a stress fracture in his lower left leg, will not be making his debut anytime soon.
Little on Tuesday suffered a broken fourth metacarpal in his left hand after getting it caught in a teammate's jersey at practice, KU coach Bill Self indicated Tuesday night.
He said juco transfer Little would be out two to four weeks.
"It'll be two weeks before he could do anything realistically," Self said, then explaining what happened.
"He got it caught in a jersey switching directions. His hand caught and pulled his fingers apart and broke it. As of now we'll splint it and he'll hopefully be back full speed real soon. He probably would not have played before Christmas anyway with his leg. I didn't think he'd be ready for the Temple game (Saturday). It may be the first week of January. He'll be out a bit."
Self said there's a chance he may red-shirt Little, but that is not in the immediate plans.
"Even if we don't get him to the first of the year, he could play 18 regular season games and the conference tournament and whatever happens after that. He could still conceivably play two-thirds of the season," Self said.
Self acknowledged it was a tough turn of events for Little, who on Dec. 5 returned to practice after being shut down since late October to let his stress fracture heal.
"We don't need this now. It's part of the game all teams go through," Self said, adding, "we're disappointed for Mario. He's fighting through a bit of adversity."
Little was ranked the No. 1 junior college player in the country last year while at Chipola (Fla.) College where he averaged 15.2 points, 5.5 rebounds and 2.6 assists per game. He averaged 12.7 points off 62.5 percent shooting in KU's three exhibition games in Canada over Labor Day weekend. He had a game-high 21 points off 9-of-11 shooting against Ottawa University.
More like this story on KUsports.com